Speaker discusses peace in the Middle East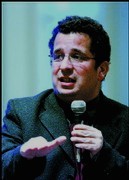 Due to inclement weather and airport closings, the following event has been canceled. The speaker will be rescheduled, if possible.
Neil Lazarus, an international lecturer on the Middle East, Israeli advocacy and effective communication training, offers a seminar titled Is Peace Possible in the Middle East? at 7 p.m. Wednesday, Feb. 14, in Chase Hall Lounge, 56 Campus Ave., Bates College. Sponsored by Bates College Hillel, the talk is open to the public free of charge.
Lazarus' presentations are "substantive, educational and hugely entertaining," says Orli Gil, consul for academic affairs for the Consulate General of Israel in New York. "He successfully communicates an impressive body of knowledge on Israel and the Middle East."
Lazarus, director of the Israel advocacy firm AwesomeSeminars.com, speaks to more than 25,000 people worldwide about Israel and the Middle East. His many seminar topics include policy, media and advocacy issues. His extensive client list includes the Israeli ministries of foreign affairs and tourism, Keshet Television, the World Bank, Harvard University Extension Courses in Israel, Hillel, Hadassah, Birthright and the Jewish Agency of Israel.
Born in Britain, Lazarus received his first degree in political science at the University of Wales. He immigrated to Israel in 1988 and soon thereafter received his master's degree at the Hebrew University of Jerusalem.
View Comments