The Wounds of War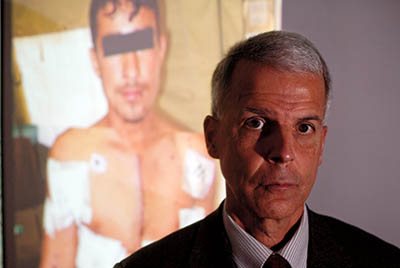 It is a coffee-table book you would never put on your coffee table. The title, War Surgery in Afghanistan and Iraq: A Series of Cases, 2003–2007, is explicit. But nothing can prepare the reader for what is inside: 400 pages of color photos showing exactly what war does to the human body.
A soldier struck by a sniper's bullet that pierces his helmet, driving fragments of the helmet, bullet, and bone into his brain. Another soldier burned over 80 percent of his body during "munitions disposal." A very pregnant woman shot in the stomach by an AK-47.
On its face, War Surgery in Afghanistan and Iraq is simply a how-to guide for surgeons preparing for the battlefield, told in matter-of-fact medical language by 53 doctors who contributed cases. The book documents innovative techniques involving massive transfusions, prophylactic treatment of tissue to minimize amputations, and treatment of head injuries, such as the one suffered by Bob Woodruff of ABC News, who wrote the book's foreword.
The book was published in 2008 by the Army Medical Department's Borden Institute, but, as Lounsbury says, "it almost wasn't."
But its explicit photos (the kind few Americans have ever seen, from any war), combined with pre-publication buzz about the Army's censorship attempts, made the book the first of its kind to attract attention outside medical journals.
The book was the consuming passion of retired U.S. Army Col. Dave Lounsbury '72, a physician who took part in both the 1991 and 2003 Gulf wars. Although he retired in 2005 after 26 years in the Army Medical Department, he and two co-editors worked on the book for the next two years.
It was published in 2008 by the Army Medical Department's Borden Institute, but, as Lounsbury says, "it almost wasn't."
Early in the year, Lounsbury began to detect efforts to suppress the book or at least restrict its circulation. The press run was sharply reduced; a non-military publisher was rejected; and an Army censor came up with a four-page list of required changes, including the removal of words like "soldier" and "Marine," or any reference to an enemy weapon, such as an IED.
Lounsbury pushed back, appealing to the Army surgeon general with a simple strategy that he credits to the late Daniel Patrick Moynihan. "We restated the obvious," Lounsbury says. In a meeting with the surgeon general on June 16, Lounsbury mentioned that The New York Times had a set of galley proofs and that ABC News was aware of the book. The latter was a veiled reference to Bob Woodruff's involvement. "His name was not used," Lounsbury says. "Implied? Yes."
The Army soon published the book, restoring most of the censored content — including the words mentioned above — after Lounsbury and his co-editors made a line-by-line appeal. "It doesn't take much to appreciate that if the government doesn't want you to see flag-draped coffins, it wouldn't want you to see the graphic images in this book," Lounsbury says.
In August, The New York Times was the first to report on the Army's "strenuous efforts…to keep it out of civilian hands." Within months, the book was reviewed in such disparate publications as The Economist ("The book is dense — about the size and mass of the chest-plate in a set of body armor — and will save many lives") and The New York Review of Books ("What you get is the war without the war story.… [T]here is only one thing in sight, and that is consequence").
Forty-one years ago, Lounsbury came to Bates from Stoneham, Mass., and he often describes his first two years as "the worst of my life," calling himself a poor and immature student. He was a freshman when his older brother, Guy, lost both legs and an arm in Vietnam. Over the next two years, Lounsbury's father insisted that Dave make weekly visits to the Philadelphia Naval Hospital, where his brother was recovering from his wounds. Every Friday after classes Dave would take the bus out of town, which meant missing Saturday classes (Bates was on a six-day class schedule back then) when Dave was struggling with his science-heavy coursework.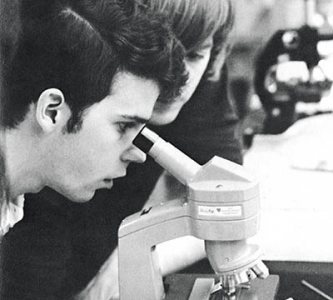 "Up at Bates, I was against the war," he recalls. "And down in Philly, in these long, Florence Nightingale wards with 50 Marines on one side and 50 Marines on the other side, you couldn't help yourself. I mean, you loved these guys — you'd do anything for them."
A biology major, Lounsbury doesn't know what effect, if any, his brother's injuries had on his eventual decision to enroll at the University of Vermont College of Medicine with the help of a military scholarship. He rejects the pat answer. "I didn't choose this career in medicine," he says. "It was a pragmatic decision to pay for my medical education."
Lounsbury's Army medical career included service with field units in both Gulf wars, the Balkans, and Turkey, as well as teaching stints at Walter Reed Army Medical Center in Washington, D.C. There, he served as director of the Borden Institute and edited various textbooks on military medicine. "I enjoyed my service and would do it all over again in a heartbeat," says Lounsbury, who now lives in Columbia, S.C.
When deployed to the Gulf in 2003 with the 10th Combat Support Hospital, Lounsbury firmly supported the war in Iraq. "I believed," he says, accepting as truth the idea that Iraq possessed weapons of mass destruction. Trained in internal medicine and neurology, he cared for Iraqi prisoners, an experience that became the focus of a Nova segment, "Life and Death in the War Zone." "No medical person would hope for war," he says. "But if there is going to be a war, I wanted to be there. I wanted to see if I could do it."
"Most people would be repelled by it, but a surgeon will reach into his pocket and take a picture."
Now, Lounsbury does not hide his opposition to a war that "we never had to fight" and is uncomfortable accepting praise for the book. "I'm receiving credit for other people's work," he says. "We have created a little bit of good from a war that should never have happened."
War Surgery in Afghanistan and Iraq draws heavily upon the contributions of doctors in the war zones. Back in 2004, Lounsbury had the foresight to include a reply card in each copy of another standard-issue military textbook, Emergency War Surgery. The card asked doctors to communicate their frontline findings, and they responded with photos and comments from the field, even phoning in on secure lines. "Every Tom, Dick, and Harry surgeon has a digital camera in his pocket," says Lounsbury. "They walk into [a combat support hospital] and see Corporal Snuffy lying naked on a table with some part of his anatomy blown away. Most people would be repelled by it, but a surgeon will reach into his pocket and take a picture."
The book seeks to shorten the learning curve of combat medicine, "to help in the first few minutes of chaos because no one just walks in, ready for the kind of polytrauma seen in warfare."
It especially teaches battlefield doctors to expect "ferocious" wounds caused by the obscene trifecta of blast trauma, penetrating trauma, and burns. "Civilian doctors don't often see all three at once in the same body," Lounsbury says.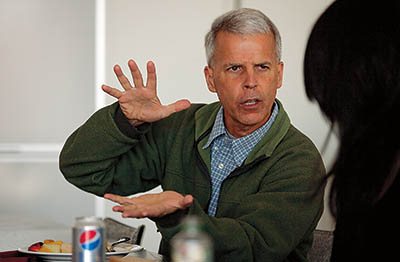 Returning to Bates in March as the College Key Distinguished Alumnus in Residence, Lounsbury gave an informal lecture that held the rapt attention of his listeners in Chase Hall. He told the story of three young soldiers in Iraq who each lost a leg, or more, from a single missile that penetrated their armored personnel carrier. Operated on simultaneously, all three survived. He noted that just as military technology has improved, military medicine has strived to keep pace.
"The wounds are often lifelong. Recovery is incomplete. Life is interrupted — creating a before and an after."
"We are saving people who would've died in prior wars." Body armor is one reason, he says. "We're saving lives but not limbs." Another reason is the talent of battlefield medics who "are doing a noble job," saving the lives of soldiers who otherwise would bleed to death or die from a sucking chest wound.
Emotion crept into his voice near the end of his talk. "The wounds are often lifelong. Recovery is incomplete. Life is interrupted — creating a before and an after."
Years ago, during one of those difficult weekend visits to see his brother Guy in Philadelphia, Lounsbury was on an elevator with his brother. It stopped, the door opened, and three Navy doctors wearing long white coats walked in. "I was behind Guy, holding the wheelchair," Dave recalls. "They were looking at him. They were building a new right arm for him — you could see it. They wished him well."
One day 35 years later, Lounsbury got on the elevator at Walter Reed Army Medical Center. "The door opened, and it was full of these guys — they all looked like teenagers — in wheelchairs, with various limbs missing. For a minute, I had to concentrate. I wasn't sure who was on the elevator. Was it the teenager from Bates 35 years ago looking at these doctors in the white coats? Or was it me who was in the white coat? The moment was like a strobe light."
Lounsbury got off the elevator on the next floor. "I couldn't bear it. I couldn't bear it."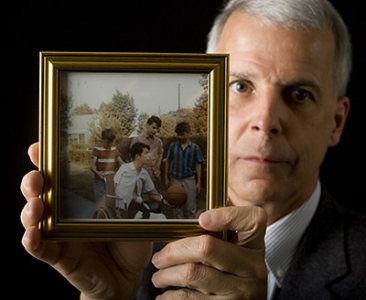 For the book's afterword, Lounsbury selected lines of poetry, as if invoking great poets might help lay readers make sense of the book's horrific content. From Virgil's Aeneid, he chose "Sunt lacrimae rerum et mentem mortalia tangunt" (There are tears for the events of the world and our human mortality touches the heart).
From Wordsworth's "Ode: Intimations of Immortality," he offered 14 lines, including the final four:
Thanks to the human heart by which we live,
Thanks to its tenderness, its joys, and fears,
To me the meanest flower that blows can give
Thoughts that do often lie too deep for tears.
Fiercely honest and self-critical, Lounsbury wrestles endlessly with his role in bringing the book into the public sphere. Mostly, he comes back to the view he held when he began working on it: "If Americans are paying for the war, they need to see what the war is all about."
But then he goes on wrestling: "The censors say it has no role for the lay public, for the civilian, and that's why they wanted to restrict it. The gentler way [of saying that] is, 'If you open the book, you're not going to appreciate what you're looking at. You're not going to understand it, you don't know the wounding ballistics, you're not educated enough to appreciate what you're looking at.'
"I've changed my mind about that three or four times."
By Jon Halvorsen, photographs by Phyllis Graber Jensen
Author Jon Halvorsen serves as Class Notes editor for Bates Magazine.
View Comments