Human rights activist to speak as part of Stringfellow Awards ceremony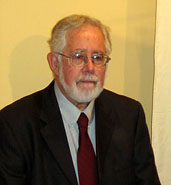 Human rights activist William H. "Bill" Slavick will visit Bates to give a lecture titled Neighbors, Near and Far and present the annual William Stringfellow Awards in Justice and Peace at 7 p.m. Sunday, March 25, in the Benjamin Mays Center, 95 Russell St. Sponsored by the Office of the Chaplain, the talk is open to the public free of charge. Call 207-786-8272 for more information.
The lecture honors the legacy of William Stringfellow '49, a lawyer and lay theologian prominent in the American peace movement, and coincides with the 2007 William Stringfellow Awards for Justice and Peace, to be presented this year to Bates senior Ben Chin of Pittsburgh, Pa., and the Trinity Jubilee Center of Lewiston.
The Stringfellow Awards honor recipients in two categories: a current student or student organization at Bates College, and a citizen or organization in Maine. Recipients reflect the character, values and commitments of Stringfellow, "a man whose life and work are of inestimable significance to the movements for justice and peace in this country and around the world,"  says Bates College Chaplain Bill Blaine-Wallace.
A retired professor of English at the University of Southern Maine, Slavick has served as coordinator of Pax Christi Maine, the Catholic and ecumenical peace and social justice movement, for the past 20 years. The Depression-era Tennessee native graduated from Notre Dame and became a social activist. The author of many articles on peace and social justice, he is a founder of Maine Haiti Solidarity and Maine Peace and Justice in Israel/Palestine.
Slavick received the 1996 Portland Chapter 174 Amnesty International Human Rights Activist Award and is a member of Maine Veterans for Peace and Peace Action Maine. In 2006, he ran as an Independent candidate against incumbent U.S. Sen. Susan Collins, winning 5 percent of the statewide vote.
At USM, Slavick played a large role in faculty governance and served as chair of the Maine American Association of University Professors Conference. A senior Fulbright lecturer in Kassel, Germany, in 1977, Slavick is the author of DuBose Heyward (Twayne Publishers, 1981) and has published extensively on the work of Kentucky poet and novelist Elizabeth Maddox Roberts, whose letters he is editing.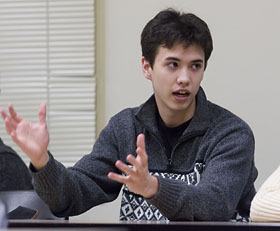 An intern in the Governor's Office of Health Policy and Finance researching and preparing testimony concerning pharmaceutical drugs, Chin will graduate this May with a degree in politics. A Maine Campus Compact Fellow, an Arata Scholar and a finalist for the Truman Foundation Scholarship, Chin's concern for peace and justice developed through his church work. An elder of the Presbyterian Church, he considers his work "to be a reflection of God's love," he says.
As a sophomore, Chin helped to organize a month-long camp-out on the Bates campus to support a newly formed local group, Visible Community, composed of  downtown Lewiston residents who challenged Lewiston's Heritage Initiative, an urban renewal plan to put a highway through downtown. That experience led him to direct a summer canvass for Maine People's Alliance, working to protect Social Security from privatization. Chin spent his junior year studying in Uganda and Egypt and his summer with MPA, this time organizing grassroots support for a comprehensive consumer chemical policy.
As a senior, he has worked with the League of Young Voters against the so-called "Taxpayer Bill of Rights," helped gather signatures for Opportunity Maine's student debt-relief ballot initiative and organized statewide student resistance to LD 203, a state bill that would effectively disenfranchise students from voting where they live, he says.
In 1991 the congregation of Trinity Episcopal Church looked at its surrounding neighborhood and saw poverty, violence, substance abuse and mental illness. In response, the congregation started an urban ministry to help the neighborhood confront these problems. In 2000, this urban ministry was designated a Jubilee Center of the Episcopal Church. It became a separate nonprofit organization in 2001. Located in the lower level of the Trinity Episcopal Church at 247 Bates St., the center serves one of the poorest neighborhoods in Maine, in which sixty-four percent of the population lives on a yearly income of less than $15,000.
The center provides advocacy for those in need in a variety of ways. It's a gathering spot for the neighborhood, where news is exchanged, concerns are shared and referrals are made. Everyone is invited and encouraged to participate in the work of the center by becoming advocates for individuals in need and providing support through prayer, legislation, financial support and other contributions.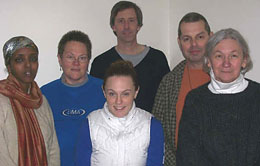 The center serves five meals weekly to an average of 90 people per meal. In addition to meals, an emergency food pantry serves the public on Thursday mornings, typically helping more than 100 families and individuals weekly. With an ever-growing influx of refugees and families in need that number continues to grow.
In 2006 more than 30,000 diapers were distributed — and that number will be closer to 40,000 by the end of 2007. In mid-January 2006, the center expanded its drop-in center hours to offer shelter, warmth, access to other social service agencies and a friendly ear seven days a week.  At the end of January, an afterschool program was developed to offer tutoring to neighborhood students in grades 6 through 10.  In addition to all scheduled services offered, the center collects donations of furniture, clothing and food in an ongoing effort to help people in emergency housing situations.
The Jubilee Center Board of Directors consists of President Tom Tracy, Bates College Phillips Professor of Religion; Vice-President Bob Mulligan; Secretary Louise Murphy; Treasurer Rene Dumont and three at-large members.  Bates alum Kim Wettlaufer '80 serves as executive director and Calvin Dube serves as program coordinator. The remainder of the staff  — all part-time — includes Dell Caron Gray, administrator and event planner;  Bates College junior Carolyn McNamara of Wenham, Mass., refugee relations and food pantry coordinator; Gure Ali and Halima Mohamed,  after-school program; Aba Abu, translator; Jerry DerBoghosian, office assistant; Regina Knox, Thursday night meal coordinator; and Steff Deschenes, food pantry assistant.
Trinity Jubilee Center receives funding from the United Way, the Federal Emergency Management Program, the Community Development Block Grant, individual donations and gifts, and pledges from individuals, churches and community organizations. Volunteers from area churches, high school youth groups and Bates College students are among those who help make the operation run smoothly. Bates College and St. Mary's Campus Cuisine serve as the center's prime source of food, along with bread donor Country Kitchen, Shaw's and Hannaford supermarkets. Volunteers keep the center running, and as programs continue to expand, so does the need for more volunteers.
View Comments