Musician Corey Harris '91 to speak at Bates Commencement on May 27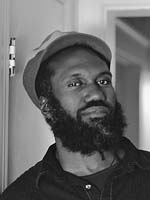 Four honorary degree recipients will speak at Bates College's 141st commencement, on May 27. The honorands are children's book author Eric Carle, singer-songwriter Corey Harris '91, inventor-entrepreneur Dean Kamen and actor and author Anna Deavere Smith.
The 10 a.m. commencement ceremony will take place on the historic quad in front of Coram Library. In case of rain, the ceremony will be held in Merrill Gymnasium.
Eric Carle creates brilliantly illustrated and designed picture books for very young children. His best-known work, The Very Hungry Caterpillar, has eaten its way into the hearts of literally millions of children all over the world and has been translated into more than 30 languages and sold more than 25 million copies. Since publishing Caterpillar in 1969, Carle has illustrated more than 70 books, many best sellers, most of which he also wrote. More than 75 million copies of his books have sold around the world.
Distinctive and instantly recognizable, Carle's art work is created in collage technique, using hand-painted papers, which he cuts and layers to form bright and cheerful images. The appeal of Carle's books lies in his intuitive understanding of and respect for children, who instinctively sense in him someone who shares their most cherished thoughts and emotions. The themes of his stories are usually drawn from his extensive knowledge and love of nature — an interest shared by most small children. The Washington Post describes Carle's "mega-bestsellers" as "picture books about usually unlovable creatures that overcome obstacles to find meaning in life."
Says Carle: "With many of my books I attempt to bridge the gap between the home and school. I believe the passage from home to school is the second biggest trauma of childhood; the first is, of course, being born. Indeed, in both cases we leave a place of warmth and protection for one that is unknown. The unknown often brings fear with it. In my books I try to counteract this fear, to replace it with a positive message."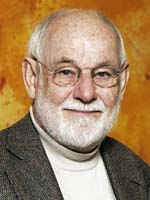 In 2002, Carle and his wife, Barbara, helped to found the Eric Carle Museum of Picture Book Art in Amherst, Mass., the first full-scale museum in this country devoted to national and international picture book art, conceived and built with the aim of celebrating the art that we are first exposed to as children.
Carle will receive the honorary degree of Doctor of Letters at Bates.
Acclaimed for his brilliant, blues-based exploration of African diaspora music, singer-songwriter Corey Harris, a 1991 Bates graduate, began his musical journey with 1995's Between Midnight and Day, a collection of traditional Delta blues songs performed with just voice and National steel guitar. "I'm grounded heavily in the blues, but I let everything influence me," Harris told Bates Magazine in 1997. "I try to be as open as I can."
A high-honors anthropology major at Bates, Harris won a postgraduate Watson Fellowship to study pidgin English in Cameroon (his senior thesis topic), then taught English and French in Napoleonville, La., traveling to New Orleans to perform on weekends. Music soon became his singular pursuit. His second CD was Fish Ain't Bitin' (1997), winner of the 1998 W.C. Handy Award for best acoustic blues album, followed by the plugged-in Greens from the Garden (1999), Vu-Du Menz (2000) and Downhome Sophisticate (2002), the latter showcasing a dazzling command of styles.
"[The CD] isn't what you'd expect from a musician well-versed in traditional blues," wrote The Washington Post. "Unless it's someone who also has a passion for the music of Jamaica and West Africa, the rhymes and rhythms of rap, the sensuous allure of Afro-Caribbean dances, the horn-charged funk of James Brown and the fiery, guitar-driven sonics of psychedelic rock."
In 2003, director Martin Scorsese put Harris at the center of "Feel Like Going Home," the debut episode of the PBS documentary The Blues, in which Harris traced American blues music to its African origins. Scorsese filmed Harris performing with the late, legendary guitarist Ali Farka Toure, an experience that led to the CD Mississippi to Mali, followed by Daily Bread in 2005. Harris lives in Charlottesville, Va., where he is on the board of directors of the Field School, a middle school for boys opening in fall 2007.
Harris will receive the honorary degree of Doctor of Music.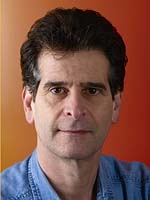 "Most people today look at technology and see magic," inventor-entrepreneur Dean Kamen told Newsweek last December. Kamen's creations may indeed seem magical, from the two-wheeled personal transporter called the Segway to health care innovations, such as the first wearable insulin pump for diabetics, that have transformed daily living for many. But Kamen's commitment to his calling transcends any single invention, as he is passionate about bringing young people into the field and heightening the profile of science and technology in education and society. In short, if technology seems like magic, he wants to ensure an ample supply of magicians.
One of his proudest creations is FIRST (For Inspiration and Recognition of Science and Technology), an organization dedicated to motivating the next generation to understand, use, and enjoy science and technology. This year, FIRST's student competitions in robotics will involve nearly 33,000 high school students in 1,300 teams; and more than 92,000 9-to-14-year-olds in 45 countries will take part in FIRST's LEGO League competitions.
Born on New York's Long Island, Kamen attended Worcester Polytechnic Institute, during which time he developed the interest in medical technology that led him to produce the insulin pump. His inventions since then have included the HomeChoice portable dialysis machine and the Independence iBot, a "super-wheelchair" whose sensors, microprocessors, and gyroscopes allow people with mobility impairments to negotiate stairs and broken terrain. Kamen's most recent projects include systems to purify water and generate electricity in resource-poor regions.
He is the founder and president of DEKA Research and Development Corp., of Manchester, N.H., where he pursues both proprietary inventions and initiatives for corporate clients. Kamen received the National Medal of Technology in 2000 and the Lemelson-MIT Prize in 2002, is a member of the National Academy of Engineers, and in May 2005 was inducted into the National Inventors Hall of Fame.
Kamen will receive the honorary degree of Doctor of Science.
Hailed by Newsweek as "the most exciting individual in American theater," playwright, actor, performance artist and author Anna Deavere Smith uses her singular brand of theater to explore issues of race, community and character in America. In 1996, she was awarded the prestigious MacArthur Foundation Fellowship (known as a "genius" grant) for creating "a new form of theater — a blend of theatrical art, social commentary, journalism and intimate reverie."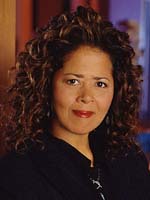 Smith is perhaps best-known as the author and performer of two one-woman plays about racial tensions in American cities: Fires in the Mirror: Crown Heights, Brooklyn and Other Identities, a Pulitzer Prize finalist; and Twilight: Los Angeles 1992, which earned two Tony nominations. Combining the journalistic technique of interviewing subjects from all walks of life with the art of recreating their words in performance, Smith, a two-time Obie winner, transforms herself onstage into an astonishing number of characters (up to 46 in one show), expressing their own points of view on controversial issues.
In 2004, Smith released two plays, House Arrest and Piano, that question the power of the media in shaping our "truths." She has appeared in many television shows, including a recurring role in The West Wing and most recently in Life Support on HBO, about HIV in the African American community; and in motion pictures, including Philadelphia, The American President and The Manchurian Candidate.
In 1998, in association with the Ford Foundation, Smith founded the Institute on the Arts and Civic Dialogue at Harvard (now at New York University). The institute's mission is to explore the role of the arts in relation to vital social issues. A tenured professor at the Tisch School of the Arts at New York University, Smith's current work in progress is Let Me Down Easy, exploring expressions of the human body, both its frailty and vitality.
She will receive the honorary degree of Doctor of Fine Arts.
View Comments