Dick Williamson, Dana Professor Emeritus of French, dies at 62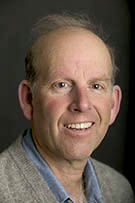 Richard C. Williamson, Charles A. Dana Professor Emeritus of French and a charismatic catalyst of Bates community, died on the night of June 19 while en route to Louisville, Ky., with his wife, Deborah, to compete in bicycling events at the National Senior Games.
The apparent cause of death was a heart attack, according to the Sun Journal. He was 62.
A man of zeal and a master teacher at all levels of French language, literature, and culture for 30 years, Williamson was, for his colleagues, "always…consistent and masterful at pulling us…into the larger good," said colleague Kirk Read in 2005, at the time of Williamson's retirement.A decade-long chairman of the Department of Classical and Romance Languages and Literatures, he created and directed the Fall Semester Abroad Program in Nantes, France, and has often visited Avignon with students during Bates' Short Term. He had become increasingly interested in "la francophonie" and visited Martinique and Senegal frequently. His final official teaching moments, in 2005, were spent in Morocco leading 15 Short Term students with a colleague, Paqui Lopez.
As coach of the men's hockey club early in his Bates career, Williamson provided for his players "the entree into adulthood" said Wilson Ring '79 in 2005. Inside and outside the classroom, he offered students "a window to a much larger world, the example of flexibility and resilience, and so many other fundamental but intangible gifts," said Patrick Murphy '80. He was inducted into the Bates Scholar-Athlete Society in 2006.
Williamson earned bachelor's and master's degrees from Yale University, where he played hockey as an undergraduate and captained the team his senior year. He earned a doctoral degree from Indiana University where he played for and coached the club hockey team, which won the Big Ten Club Championship twice during his tenure. He was named all Big-Ten Club three times.
He edited Moliere's Les Femmes Savantes (New York: Hippocrene Books, 1996), and co-edited Toward a New Integration of Language and Culture (Middlebury, Vt.: Northeast Conference, 1988).
The French government, in gratitude for his teaching French language and literature in the United States, named him Chevalier in the Order of the Palmes Académiques in 1997. In 2005 he received the Sister Solange Bernier Lifetime Achievement Award, given by the Foreign Language Association of Maine (FLAME), a nonprofit organization that promotes and improves the teaching and study of foreign languages and cultures.
An avid cyclist who competed annually in Senior Games and trained year-round, he was highly admired by his fellow cyclists in the Lewiston-Auburn area. "I don't feel like he missed out on anything," his friend and fellow cyclist John Grenier told the Sun Journal.  "He was doing what he loved, always." In 2006, Williamson completed a 600-mile trek with two Bates seniors, John Bauer and Kate Gatti, who had cycled from Fort Myers, Fla., to meet him in Pennsylvania and ride together to Maine.
Survivors of Dick Williamson's immediate family include his wife, Debbie, and four grown children, including Vanessa '05. He was predeceased by a daughter.
---
Update June 26: A public celebration of Dick Williamson's life will be held Saturday, June 30, at 11 a.m. Family, friends and colleagues will gather on the historic Quad in front of Coram Library to celebrate and honor his life. Light refreshments will be served on the Ladd Library Quad afterwards.
Update June 25: For those close to Dick Williamson, a family neighborhood celebration of life will be held at the Williamson home on the afternoon of June 29.
Alumni can read and contribute Williamson memories at the Bates Online Community.
Associated Press story on Williamson's death.
From 2005, a faculty colleague's tribute to Williamson upon his retirement.
From 2005, tributes to Williamson from his former hockey players.
View Comments