College Dance Festival presents video dance works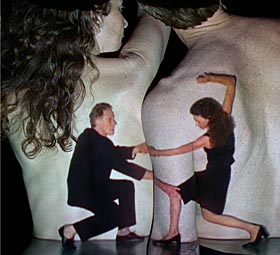 Showcasing the innovative use of new technologies, Bridgman Packer Dance and BoánDanz Action present the Maine premieres of new work incorporating live dance and music with state-of-the-art video. The festival presents Bridgman Packer Dance at 8 p.m. Saturday, Aug. 4, and BoánDanz Action at 8 p.m. Sunday, Aug. 5, in Schaeffer Theatre, 305 College St., Bates College.
Bridgman Packer Dance explores the concept of "video partnering" in its latest work, Trilogy, a highly visceral and visually arresting integration of live performance and video technology that explodes the duet form into a magically populated stage where image and reality collide. Trilogy features live music by three renowned composers whose distinctive musical styles are strongly influenced by contemporary, classical or jazz musical genres. Robert Een plays cello for Seductive Reasoning; Ken Field blows his sax for Under the Skin; and Grammy-Award-winning percussionist Glen Velez does a dazzling turn on his frame drum for Memory Bank.
Marianela Boán, Cuba's best-known avant-garde choreographer, brings her newly formed company, BoánDanz Action, to present FalseTestimony. Boán masterfully employs her choreographic method of "contaminated dance," merging many art forms for a deep investigation of our post-technological era where the "virtual reality" of video and cameras is omnipresent. A seamless integration of dance, video and live music, False Testimony combines wit, craft and a sophisticated use of technology to comment on today's wired world.
Art Bridgman and Myrna Packer have collaborated in choreography and performance since 1978. Selected as 2005-06 Dance Theater Workshop Digital Fellows, they have received numerous grants from the National Endowment for the Arts and the New York Foundation for the Arts, and choreographic commissions from Dance Theater Workshop, Danspace Project, the 92nd Street Y New Works in Dance Fund, and DNA Presents in New York City and the National Performance Network's Creation Fund. Bridgman and Packer have performed at more than 200 venues throughout the United States, Europe, Asia and Central America and have been guest artists at more than 100 colleges and universities. They were featured in Dance Magazine's 2006 issue on great partnerships.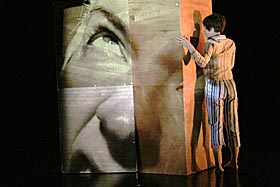 Boán is recognized as one of the most important artists of contemporary Cuban dance. She has been a leader of the Cuban avant-garde since the 1970s. As choreographer, dancer and professor Boán has worked in more than 40 countries around the world. Her Havana-based company, DanzAbierta, has received numerous prizes and awards in Cuba and abroad. In 2000 she immigrated to the United States, where she formed her new company BoánDanz Action.
In addition to main stage performances, the festival offers a selection of free and low-cost events. Complete information is available at the website.
View Comments