Bates photographer documents preadolescence in Oaxaca, Mexico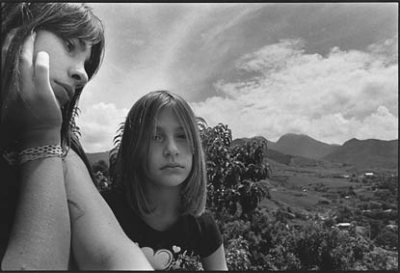 "I arrived in Oaxaca, Mexico, on the first of July, equipped with my Nikon, rolls upon rolls of film and a handle on the Spanish language that was, for lack of a better word, lessthanbueno," writes Alexandra Strada '10, whose photographs are on display in Bates' Chase Hall Lounge, 56 Campus Ave. "My love of photography had taken me many places in the past, but this trip was different. For the first time, I was traveling on my own in a foreign country, and I was unsure of what to expect…"
Strada, a studio art and art history double major from Amagansett, N.Y., traveled to Mexico in 2007 to participate in a workshop led by accomplished photographer Mary Ellen Mark, whose work, Strada says, has significantly influenced her own. "I spent my mornings photographing children in their homes, and my afternoons photographing and volunteering at a local orphanage, Casa Jogar," writes Strada.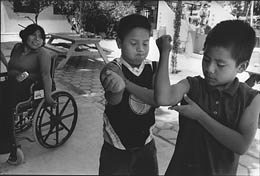 As a result of her trip, Strada has produced a series of exquisite black and white photographs of Oaxacan preteens on display in Chase through Nov. 21. The public is invited to visit the exhibition free of charge. Visiting hours are from 9 a.m. to 5 p.m. daily.
Oaxaca is a city in which time has stopped, says Strada.  "In the absence of the immense skyscrapers and rumbling SUVs found in a modern metropolis, Oaxaca is characterized by pristine colonial architecture and parades of vintage Volkswagen Beetles." These qualities of timelessness, articulated by the Oaxacan children she met, deeply affected her photography. "I sought to … develop the idea of opposite worlds of fantasy and reality, and a preadolescent's ability to exist in both. This is a concept understood by all. It is preserved — timeless like the streets of Oaxaca."
Strada has previously focused her lens on children between the ages of 10 and 14. "As a photographer, I am intrigued by the awkward departure from naiveté to an almost eerie pensiveness exhibited in a child at this age," she writes. "Adolescence is on the horizon, and they are beginning to take on the responsibilities of mature members of society while holding fast to their youthfulness."
Leave a Reply
This is a forum for sharing your thoughts about the preceding post with the public. If you have a question for the author, please email the Bates Communications Office at communications@bates.edu.