Bates Concert Series presents Gamelan Galak Tika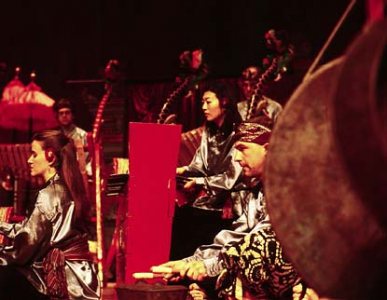 The Bates College Concert Series presents Gamelan Galak Tika, a Boston-area ensemble performing the gamelan music of Bali, Indonesia, in performance at 8 p.m. Friday, Dec. 7, in the Olin Arts Center Concert Hall, 75 Russell St.
Admission is $10 for adults and $3 for students. For reservations and more information, please contact 207-786-6135 or this olinarts@bates.edu, or visit the concert series Web site.
Gamelan Galak Tika is the Boston area's first and foremost Balinese gamelan. The group performs traditional and modern Balinese dance and music, and develops innovative works that cross borders and defy genres. "Gamelan" refers to the large bronze percussion orchestras of Java and Bali, Indonesia.
The orchestra creates an "intoxicating tone of wave-like rhythms and ringing sonorities," wrote a reviewer for the Newark Star-Ledger, who called the experience "a cross-cultural, color-rich mix of mesmeric gamelan resonance and rock drama!"
The Bates concert features legendary Balinese dancer and scholar I Made Bandem, former head of Bali's prestigious ISI Arts Academy and author of "Balinese Dance in Transition" (Oxford University Press, 1995). He will perform traditional dance solos and duos while accompanied by Galak Tika's 25-member ensemble of gongs, metallophones, drums and flutes.
The program also includes Galak Tika's first performance of Bali's most famous female dance, "Legong Kraton." (The performer was not determined at press time.) Also on the program are different genres of instrumental music, both ancient and modern, performed on a variety of hand-forged and intricately carved instruments.
Galak Tika was formed in 1993 and is led by composer Evan Ziporyn, Kenan Sahin Distinguished Professor of Music at MIT. The words "galak tika" are classical Javanese for "intense togetherness." The ensemble draws its members from the MIT community and functions in the tradition of a Balinese village "sekeha," with decisions made communally and responsibilities shared among participants.
The ensemble has performed at Carnegie Hall, Lincoln Center, the Brooklyn Academy of Music and at colleges in New England and New York. In summer 2005 Galak Tika toured Bali, bringing new American works to the Bali International Arts Festival as well as to villages throughout the island.
Its first Bates visit took place in 2004.
The Bates College Concert Series resumes in 2008 with acclaimed opera singers Kelly Kaduce, soprano, and Lee Gregory, baritone, on Saturday, Feb. 9; and the popular American roots band The Holmes Brothers on Saturday, March 1.
View Comments