Famed civil rights attorney Morris Dees to speak at Bates May 8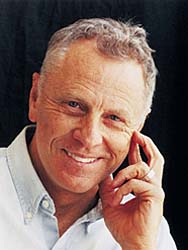 Morris Dees, founder and chief trial counsel of the Southern Poverty Law Center, will deliver a keynote address, With Justice for All in Our Multicultural Nation, at 4 p.m. May 8 in the Bates College Chapel.
Hosted by Bates College President Elaine Tuttle Hansen, this second annual Presidential Symposium on Unswerving Values, Changing Times is free and open to the public. Hansen notes that Dees' topic supports the college's longstanding commitment to offering an outstanding liberal arts education to a broad array of talented students.
"Today more than ever, greater access to higher education is an urgent need," Hansen says.  "And as we strive to deepen Bates' diversity, broadly defined, we must prepare all our students to learn from its complexity and to recognize their responsibilities as ethical leaders and global citizens."
The Southern Poverty Law Center, founded in 1971, is dedicated to educational programs that teach tolerance to young students and to seeking legal redress against white supremacist groups. Dees has argued and won cases against the United Klans of America for the lynching of a young black man, against the group Aryan Nations and the White Aryan Resistance for anti-black hate violence, and against the Carolina Klan for burning black churches.
The center's newest litigation focuses on immigrant civil rights. Noting that this issue is fertile ground for hate groups and other extremists looking to spread their racist beliefs, SPLC reasons that it is important to understand the background and motives of the groups shaping the debate about immigration.
In 1980, the Southern Poverty Law Center founded the Intelligence Project in response to resurgence in organized racist activity. The project monitors hate groups and develops legal strategies for protecting citizens from violence-prone groups. A made-for-television movie about Dees aired on NBC, "Line of Fire" describes his successful fight against the Ku Klux Klan.
The Southern Poverty Law Center, under Dees' leadership, broke new ground in anti-bias education in 1991, when it began supporting the efforts of K-12 teachers and other educators to promote respect for differences and an appreciation of diversity. The program, known as "Teaching Tolerance," has earned accolades from a variety of national organizations, including three Oscar nominations, two Academy Awards and more than 20 honors from the Educational Press Association of America.
Dees has received numerous awards in connection with his work at the Center. Trial Lawyers for Public Justice named him Trial Lawyer of the Year. He received the Martin Luther King Jr. Memorial Award and was awarded the Friend of Education Award by the National Education Association. In 2006, the National Law Journal listed him among the 100 most influential lawyers in America.
View Comments