Jon Furbush named head men's basketball coach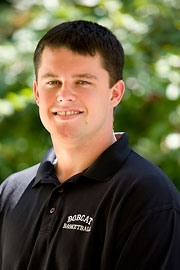 Jonathan R. Furbush, assistant men's basketball coach at Springfield College and former assistant coach and player at Bates College, has been named the new men's basketball coach at Bates.
Furbush, a 2005 Bates graduate and native of South Portland, Maine, becomes the college's 21st head men's basketball coach. He replaces Joe Reilly, who stepped down in April to take the head coaching position at Wesleyan University.
In announcing the appointment Tuesday, Bates Director of Athletics Kevin McHugh praised Furbush's "passionate commitment to the college and to the basketball program," adding that "Jon separated himself from an extremely strong candidate pool as the best fit to be the next men's basketball coach at Bates."
McHugh noted that "the foundation that he received as a player and coach at Bates, combined with his energy and enthusiasm, an ability to lead and inspire, his work ethic, and his notable talent for recruiting made him the obvious choice of the search committee.
"We are thrilled that Jon will be taking over the reins of an established program and look forward to him leading the Bobcats to even greater success."
Furbush's appointment, McHugh said, follows a "tradition of success that Bates basketball has experienced with the appointment of young head coaches." Since 1987, Bates basketball has thrice been led by head coaches in their 20s. Furbush, 25, succeeds Reilly, who was 28 when appointed in 1997. Rick Boyages, who went on to become a Division I head coach, was 24 when he began his successful four-year run as head coach in 1987.
Furbush was an assistant men's basketball coach at Springfield in 2007–08 while pursuing a master's degree in athletic administration. He held the same position for two seasons at Bates after graduating with a degree in American cultural studies.
"This is a great opportunity to get back in touch with my Maine roots," Furbush said. "Coming back to Bates is like a dream — getting to coach at my favorite school."
The Bates men's basketball program has posted a winning record for eight straight years, the longest such streak in program history. Since 2003–04, the team has posted a 92-37 record (.713 winning percentage) and twice set records for wins in a season (19 in 2004–05 and 20 in 2005–06).
"What Joe Reilly has done is tremendous," Furbush said. "I want to build on the culture he created and add a few of my own contributions. I want to use basketball as an extension of the classroom, preparing our student-athletes for the next step in life. The players in my program will all be respectful and valuable members of the Bates community and will take pride in striving towards excellence on the court and in the classroom."
– Office of Communications and Media Relations
View Comments