Bates earns high marks for environmental sustainability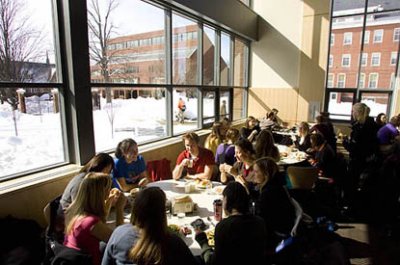 Bates College has been notified it received a top score, along with 10 other U.S. colleges and universities, in a "Green Rating" system developed by test preparation organization Princeton Review and ecoAmerica, a nonprofit environmental marketing agency.
The Green Rating is a score on a scale of 60 to 99 that the two organizations tallied for 534 colleges and universities. Scores were based on data collected from the schools in the 2007-08 academic year concerning their environmentally related policies, practices and academic offerings.
"The idea of 'Green Ratings' certainly gives more visibility to the obvious importance of environmental responsibility on college campuses today, and that's a good thing," said Bates President Elaine Tuttle Hansen.
"However, no issue would seem more complicated or less likely to be reducible to a numerical score. At Bates, we have been working hard for more than a decade to understand and contribute to the study of a wide range of challenging environmental issues even as we also try to make sustainable choices in our daily and local academic, administrative, and residential programs.
"While it's nice to be recognized for what we consider a longstanding strength and a widespread commitment at Bates, no college or university that is serious about environmental responsibility should want to pat itself on the back too quickly for policies and practices that need to be constantly reviewed, debated, refined, updated and paid for," Hansen said.
The Princeton Review said it developed the Green Rating in consultation with ecoAmerica (www.ecoamerica.org). Green Rating criteria, which ecoAmerica helped formulate along with the data collection survey and methodology, cover three broad areas:
1.Whether the school's students have a campus quality of life that is healthy and sustainable;
2. How well the school is preparing its students for employment and citizenship in a world defined by environmental challenges;
3. The school's overall commitment to environmental issues.
The institutional survey for the rating ranged from energy use, recycling, food, buildings and transportation to academic offerings (availability of environmental studies degrees and courses) and action plans and goals concerning greenhouse gas emission reductions.
In addition to Bates, six public and four private institutions received Green Rating scores of 99 (the highest score):
Arizona State University at the Tempe campus;
Binghamton University (State University of New York at Binghamton);
College of the Atlantic (Bar Harbor, Maine);
Emory University (Atlanta, Ga.);
Georgia Institute of Technology (Atlanta, Ga.);
Harvard College (Cambridge, Mass.);
University of New Hampshire (Durham, N.H.);
University of Oregon (Eugene, Ore.);
University of Washington (Seattle, Wash.)
Yale University (New Haven, Conn.)
Learn more about sustainability efforts at Bates.
– Office of Communications and Media Relations
View Comments