Bates faculty, staff test drive electric cars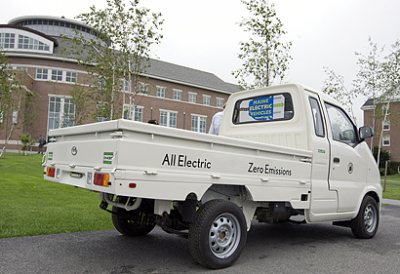 Despite wet weather, a steady trickle of Bates faculty and staff arrived between Pettengill Hall and the new dining Commons Aug. 7 to test drive two low-speed electric vehicles: a four-seater car and a small truck.
"Several offices at the College, including carpentry and catering, are looking at transport for campus use," said Daniel Nein, co-director of Bates Facility Services. "Bates people tend to be very interested in environmental sustainability. We already use three electric GEM cars for Dining Services, Information and Library Service and Physical Plant. This gives us a chance to look at another available electric option."
Electric cars do require plugging in to recharge. In Bates' case, since December 2005 the College has purchased its electricity supply from renewable energy sources in Maine, specifically biomass generating plants and small hydroelectric producers.
These vehicles developed by Miles Electric Vehicles top out at 25 mph with a range of 50 to 60 miles before needing an overnight recharge. The cars are street-legal on nearly all public roads posted at 35 mph or lower. Kal Rogers, marketing director for Maine Electric Vehicles in Falmouth, says these low speed models, which cost about $18,000 each, are ideal for campus and limited street use.
Rogers says that a new sedan that can top 75 mph is undergoing safety tests this year for a planned introduction in 2009. A June 16, 2008, Forbes describes hurdles that Miles Electric Vehicles and other electric-car manufacturers face in creating highway-speed electric cars, while a June 13, 2008 Time reports on GEM cars similar to those used at Bates, noting that "their success provides a good window into the growth of the electric car market."
View Comments