More about the Class of 2012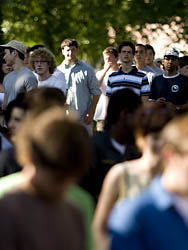 Although the final numbers are subject to change, some 1,760 students are expected on campus this fall and 154 will be attending Bates-approved programs off campus. New to Bates are 525 first-year students and 20 transfer students, drawn from a record 5,098 applications.
Eighteen percent of the new arrivals are U.S. students from underrepresented minority groups, 6 percent are international students and 5 percent are citizens of both the United States and another country.
New students have residences in 34 states and represent 32 foreign countries, from Afghanistan to Vietnam. Almost half of the members of the entering class reside outside of New England. Eleven percent of the new arrivals, and 10 percent of all actively enrolled Bates students, are from Maine.
– Office of Communications and Media Relations
View Comments