Harward Center launches 2008-09 Civic Forum series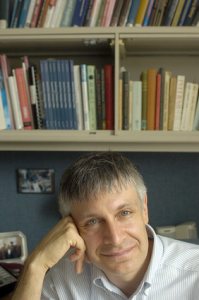 The Harward Center for Community Partnerships inaugurates its 2008-09 Civic Forum series with a talk by a leading scholar-activist on democratic renewal and civic engagement. Peter Levine, director of the Center for Information and Research on Civic Learning and Engagement at Tufts University delivers a lecture titled What Happens on November 5? Activating Citizenship (No Matter Who Wins) at 7:30 p.m. Wednesday, Sept. 24, in the Edmund S. Muskie Archives, 70 Campus Ave. The event is open to the public free of charge.
The forum is a lively series that invites the audience to wrestle with and explore civic, political and policy issues of significance to the Bates community, Maine and beyond.  For more information, please contact Kristen Cloutier at the Harward Center, at 207-786-6202.
Levine serves as research director of Tufts' Jonathan Tisch College of Citizenship and Public Service. A graduate of Yale and Oxford, where he held a Rhodes Scholarship, Levine is both a distinguished political theorist and a leader of the civic engagement movement. He served as deputy director of the National Commission on Civic Renewal during the Clinton administration.
Levine is the author of The Future of Democracy: Developing the Next Generation of American Citizens (Tufts, 2007), the forthcoming Forging Citizens: Policy for Youth Civic Engagement and several other books on philosophy and politics, as well as a novel.
The Harward Center leads Bates' efforts in community involvement, including programs in service-learning, community volunteerism and environmental stewardship. The center works with community partners to meet community needs and, in the process, to integrate civic engagement with the Bates educational experience.
View Comments