Glazer concert spans 18th, 20th centuries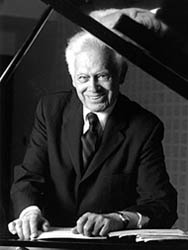 Frank Glazer, one of Maine's foremost pianists, performs music by composers spanning three centuries at 8 p.m. Friday, Dec. 5, in the Olin Arts Center Concert Hall, 75 Russell St.
The concert is open to the public free of charge, though tickets are required. For reservations, please call 207-786-6135 or this  olinarts@bates.edu.
Here's the program: J.S. Bach, Toccata in D Major (BWV 912); Mozart, Rondo in A minor (K.511); Beethoven, Sonata, Op. 101; Ravel, Valses nobles et sentimentales; and three works by Chopin including the Andante spianato et Grande Polonaise brillante, Op. 22.
Glazer, of Topsham, has been a resident artist at Bates since 1980. He is a musician of international stature whose long career includes numerous recordings and premieres of contemporary music, his own television program in the 1950s and countless solo recitals and performances with orchestras and chamber ensembles, including the New England Piano Quartette, of which he was a founder.
"Just to be in the room while Frank Glazer shares his tremendous musical wisdom and experience with artists like Macomber and the Parker quartet will be a treat," says Seth Warner, manager of the Olin concert hall.
In the 1930s Glazer studied with both Artur Schnabel, a leading interpreter of the Viennese masters, and with Arnold Schoenberg, whose atonal compositions were the antithesis of Viennese lyricism.
Glazer was 21 when he made his New York debut at Town Hall on Oct. 20, 1936. That event (recreated at Bates on its 70th anniversary in 2006) marked the start of a performing career that finds this artist creatively robust in his 90s.
View Comments