Bates exhibition chronicles Somalis' journey to U.S.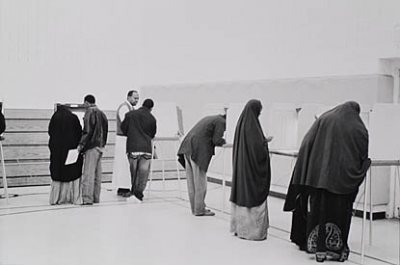 The Somali Diaspora: A Journey Away, a touring exhibition of photographs chronicling the migration of Somali refugees to Maine and other U.S. locations, opens at Bates College with events beginning at 5 p.m. Friday, Jan. 23, in the Olin Arts Center, 75 Russell St.
The 55 black-and-white images created by Somali-born photographer Abdi Roble will be exhibited at the Bates College Museum of Art through May 29. The show opens with a 5 p.m. lecture about the U.S. intervention in Somalia,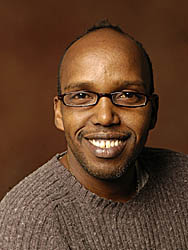 followed by Roble and his collaborator in a book project speaking at 6 p.m. Both events take place in Olin's Room 104. A reception in the museum follows at 7 p.m.
Museum admission is free. The museum is open from 10 a.m. to 5 p.m. Tuesday through Saturday, but is closed on major holidays.
Since the early 1990s, civil violence has forced hundreds of thousands of Somalis out of that African nation. Roble, who left Somalia in 1989 and now lives in Ohio, has documented the Somali diaspora for five years.
His images trace the refugees' long hard journey from refugee camps in Kenya to such cities as Minneapolis; Columbus, Ohio; and Portland, Maine. One group of photographs tracks a single family's journey from the Dadaab refugee camp in Kenya to California, and their subsequent resettlement in Maine.
Michael Paulovich, a retired Marine Corps colonel who served in Somalia with a diplomatic security team during the U.S. presence there in the early 1990s,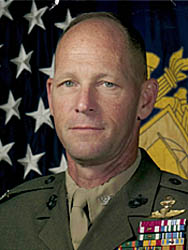 offers the lecture "Challenges in Humanitarian Intervention: Cultural Lessons from Somalia 1992-1994" at 5 p.m. Jan. 23. For more information, please visit the Web site.
Paulovich will be followed at 6 p.m. by Roble and writer Doug Rutledge, discussing their collaboration on the book The Somali Diaspora: A Journey Away, based on the images Roble is showing at Bates (University of Minnesota Press, 2008).
In a 2007 Associated Press article, Roble explained the importance of capturing the refugees' experiences while they were happening. "If you have no record, you have no history," he said. "We lost everything. We have no museum, no galleries, no record."
In photographing the refugees, Roble told the AP, he found himself humbled by the stories he witnessed. The images represent "classic American stories of people landing in this country. It's exactly the same, it just happened in a different time."
Organized by the Columbus Museum of Art and Arts Midwest in partnership with the Ohio Arts Council, the exhibition appeared previously in Columbus and Minneapolis.
Roble was born in Mogadishu, Somalia, in 1964 and came to the United States in 1989. He has freelanced for the Columbus Dispatch and the Columbus Post, and his images have appeared in Leica View magazine.
In 2003, with Rutledge and others, Roble founded the Somali Documentary Project, with the goal of photographically documenting members of the Somali diaspora while they are still engaging in the cultural practices of their homeland. For more information, see www.somaliproject.org.
Also opening at the museum on Jan. 23 is Recent Acquisitions: Collection Project III. Running through March 30, the exhibition was assembled by five Bates students invited by the museum to learn about curatorial practices. These interns created themed "cluster exhibitions" from recent museum acquisitions, exploring such ideas as gender, race, medium and provenance.
Featured artists include Berenice Abbott, Ansel Adams, Amy Stacey Curtis, Louis Hine, Cindy Sherman and Bates faculty members Paul Heroux and William Pope.L.
View Comments