Men's basketball earns sixth seed in NESCAC Championship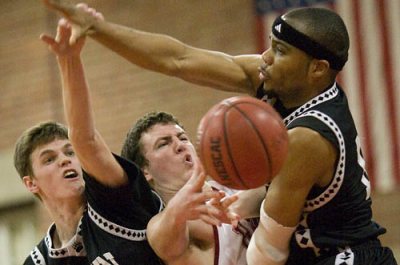 Neil Creahan '10 drives and dishes to Jimmy O'Keefe for a layup in the first half of the men's basketball team's 57-54 NESCAC victory over Bowdoin College on Jan. 23. After defeating NESCAC rival Tufts 77-65 on Feb. 14, Bates finishes the regular season at 13-11 overall and 4-5 in conference play. The Bobcats have earned the sixth seed in the NESCAC Championship and will play at No. 3 seed Williams (16-7, 6-2) Saturday, Feb. 21, at 3 p.m. in the conference playoff quarterfinals.
Leave a Reply
This is a forum for sharing your thoughts about the preceding post with the public. If you have a question for the author, please email the Bates Communications Office at communications@bates.edu.