Bobcat of the week: Chris Burke '11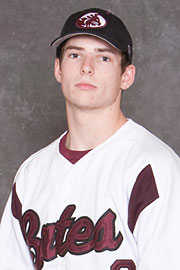 On the final day of the 2009 Bates baseball season, sophomore outfielder Chris Burke (Andover, Mass.) wrapped up an outstanding first season as a regular starter. In the season-ending doubleheader at St. Joseph's of Maine, Burke went a combined 4-for-7 with three runs and three RBIs.
Burke, who was limited to only six at-bats as a rookie last year, excelled right off the bat in his sophomore campaign, starting the season with an 18-game hitting streak. He started 33 games in right field for the Bobcats and finished the year batting .406 with 52 hits, breaking the Bates single-season record of 50 set a year ago by Brian Mahoney '08. Burke also set a new Bates single-season record for singles, with 41. Burke's 33 RBIs also supersede Mahoney's total of 30 last year, which had been the highest number by a Bobcat in over a decade. Burke had 12 multi-hit games on the season, compared to only three hitless games.
Leave a Reply
This is a forum for sharing your thoughts about the preceding post with the public. If you have a question for the author, please email the Bates Communications Office at communications@bates.edu.