Video: With dedication, Bates takes to the new Garcelon Field
With a snip of the scissors and the toss of a coin, Bates officially dedicated the newly renovated Garcelon Field before hundreds of fans, friends, project donors, students and parents on Saturday, Oct. 9. "It's an improvement not just for Bates athletics, but for Bates College," PA announcer Luke Wamboldt '11 proclaimed just minutes before a ribbon-cutting marked the dedication.
As dozens of smiling Garcelon donors stood close by and photographers and videographers captured the scene, Bates President Elaine Tuttle Hansen and Director of Athletics Kevin McHugh cut a wide garnet band held taut by Susanne Morrison Jarnryd '87 and Erik Jarnryd '87, whose lead gift provided the impetus for the $2.6 million, donor-funded renovation.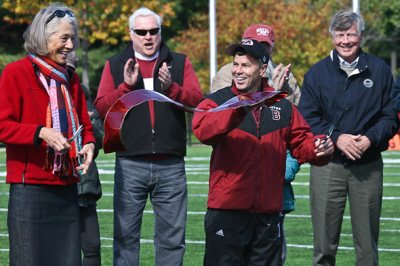 With minutes to go before the start of the field's inaugural football game, against Williams, Bobcats fans streamed onto the spacious new grandstand. Between the rock, rap and metal crackling from the PA system, the stiff northerly wind that raked across the field, and the crowd's anticipation, the mood was electric.
One of the donors, Ira Waldman '73, remained on the field for a photo, holding his Bobcat cap out at a jaunty angle, his smile cranked up to 120 watts for the camera. A student ran down from the top of the grandstand and, without a pause, jumped over the chain-link safety fence onto the field a few yards down. The game officials jogged back and forth across the brilliant green synthetic turf to warm their muscles up.
The ceremonial touches resumed close to 1 p.m. after the Bobcats swarmed onto the field in black and garnet. As they entered the field, the Bobcat team captains tossed to McHugh, and McHugh consigned to Hansen, a football that the Bates president had taken along on her travels across the country so that each College Trustee could sign it. (The ball will be added to the College Archives.)
Then the Jarnryds joined all the team captains, Bates and Williams alike, for the toss of a ceremonial coin to start the game. (Williams won the toss.) The Merimanders sang the national anthem, their harmonies echoing back at us off the brick walls of Smith and Adams halls, the wind whipping the flags around, the sun shining down on it all.
Somebody yelled, "Let's go, Bobcats!" And the game was on.
• Click thumbnails below to view images from the Garcelon Field dedication:
View Comments