About the Cover: Lounsbury '72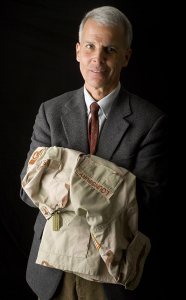 Dr. Dave Lounsbury '72, retired Army colonel and co-editor of War Surgery in Afghanistan and Iraq, visited the campus in March as the College Key's Distinguished Alumnus in Residence. He spoke with students and delivered an informal talk in Chase Hall. He also took time for this portrait by Phyllis Graber Jensen.
Photograph by Phyllis Graber Jensen
Leave a Reply
This is a forum for sharing your thoughts about the preceding post with the public. If you have a question for the author, please email the Bates Communications Office at communications@bates.edu.