Psychologist awarded grant for eyewitness testimony research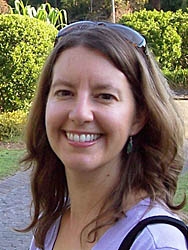 A psychology professor at Bates College has won a National Science Foundation grant to study the effects of interaction between interviewers and eyewitnesses in obtaining testimony.
Amy Douglass and her Australian colleagues Neil Brewer and Carolyn Semmler received $128,926 from the NSF for a project titled "The Dynamic Interaction between Investigator and Eyewitness: Effects on Memory Reports and Interviewer Behavior."
Douglass, a Bates faculty member since 2001, is an associate professor in the psychology department who studies the connection between psychology and law.
"Eyewitnesses are a crucial source of information for crime scene investigators" says Douglass. This won't surprise any fan of popular crime dramas like "Law and Order" and "CSI." While accurate information from an eyewitness can play a key role in solving crimes, inaccurate testimony can result in wasted time or even wrongful convictions.
"These experiments all concern techniques for interviewing eyewitnesses," Douglass says. "We hope to learn more about how eyewitnesses and investigators influence each other through the course of a forensic interview.
"In particular, we want to know if there are techniques or strategies that increase or decrease the amount of accurate information provided by eyewitnesses."
The research will consist of three phases, the ultimate goal being to "produce recommendations for interviews that may enhance the amount of accurate information retrieved," Douglass explains.
In the "witness phase" of the experiments, participants will view an event and be questioned by trained investigators. These investigators will vary the feedback they give to the witnesses while the researchers measure how these changes affect the level of detail and the overall confidence of the witnesses in their reports.
In the "investigator phase," the focus will be on the participant investigators. They will be asked to interview witnesses trained to respond in certain ways, such as increasing the level of detail in their story over the course of the interview. The researchers will assess how the witnesses' actions affect investigators' questions or overall perceptions of witness accuracy.
Finally, in the "dynamic interview phase," both the investigator and the witness will act as participants without specific instructions, making this phase the closest to a real-world interaction. Over the course of these interviews, Douglass and her fellow researchers will monitor changes in investigator questions, witness accuracy and witness confidence.
Ten experiments are planned over the three years of the grant. While some will take place at Bates with the help of Bates students as both research assistants and test subjects, others will happen in Brewer's lab at Flinders University and in Semmler's lab at the University of Adelaide, both in Adelaide, Australia. Douglass hopes to have Bates students studying abroad help her colleagues as research assistants.
Douglass received her B.A. from Williams College in 1996 and her Ph.D. in psychology from Iowa State University in 2001.
The National Science Foundation is an independent U.S. government agency responsible for promoting science and engineering through research programs and education projects. Visit the Web site to learn more: www.nsf.gov/.
– Hillary Fink '11, Office of Communications and Media Relations
View Comments