2009 reading list for entering students focuses on global climate change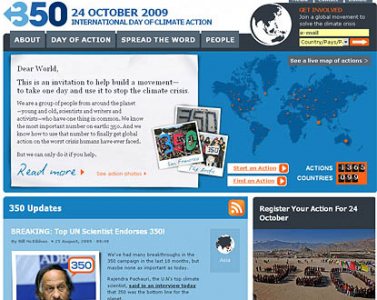 The members of the class of 2013 have been asked to explore the Global Project 350 Web site, and then read at least one other piece on the list. Through orientation and various events throughout the fall, Bates will join local, regional, national and global communities in the Global Project 350 effort to effect change and influence political leaders as the Global Climate Change Summit draws near.
At the Earth Day Network Footprint Calculator, you can calculate your own carbon footprint and learn how many planets' worth of resources would be required for everyone to live the way you do.
With Speed and Violence: Why Scientists Fear Tipping Points in Climate Change by Fred Pearce (Beacon Press, 2008): Noted as one of the more sobering, and yet most accessible, treatments of the nature and danger of tipping points related to climate change.
Climate Code Red: The Case for Emergency Action by David Spratt and Philip Sutton (Scribe Publications, 2008): "Having read this book . . . there is no doubt in my mind that this is the greatest problem confronting mankind at this time and that it has reached the level of a state of emergency.  . . .
[E]ducation of the public is critical to ensure that they understand the dimensions of the tasks and the consequences of failure. This book helps in that educative process. Please read it."  — Professor David de Kretser, Governor of Victoria, Australia
Deep Economy: The Wealth of Communities and the Durable Future by Bill McKibben (MacMillan, 2008): "How is our nation going to cope with global warming, peak oil, inequality, and a growing sense of isolation? Bill McKibben provides the simple but brilliant answer the economists have missed — we need to create 'depth' through local interdependence and sustainable use of resources. I will be requiring this inspiring book for my students, and passionately recommending it to everyone else I know."  — Juliet Schor, professor of sociology, Boston College, and author of The Overspent American
Weather Report: Art and Climate Change by Lucy R. Lippard, Stephanie Smith, Andrew C. Revkin and Kirsten Gerdes (Boulder Museum of Contemporary Art, 2007): This eco-friendly exhibition catalog includes writings by part-time Maine resident Lucy R. Lippard and major writers on environmental art and climate change. It was published by the Boulder (Colorado) Museum of Contemporary Art as part of the 2007 exhibit "Weather Report: Art and Climate Change," curated by Lippard, an internationally renowned art critic, historian and writer. "Weather Report" underscores art's potential to educate and motivate audiences. Issues regarding desertification, floods, changing watersheds, global warming, renewable energy, carbon profiling, reforestation, species transformation, ozone layer, ocean acidification and soil subsidence are presented through artists eyes to provoke a tangible, immediate connection with the viewer.
Bothered by My Green Conscience by Franke James (New Society Publishers, 2009): In these multimedia essays, James explores the steps toward committing to a more embedded environmentally conscious and sustainable life. James will be the keynote speaker on the opening night of Orientation.
The following articles appear in a special edition of the journal Nature that is dedicated to climate change. All three articles view from different angles the challenge that carbon poses to our climate, our world and ourselves.
1. "A Burden Beyond Bearing" by Richard Monastersky. Nature, v.458/30, p.1090, April 2009
2. "Great White Hope" by Oliver Morton. Nature, v.458/30, p.1097, April 2009
3. "Sucking It Up" by Nicola Jones. Nature, v.458/30, p.1094, April 2009
– Office of Communications and Media Relations
View Comments