Slide show features Homecoming 2009
* View the slide show by clicking the thumbnails.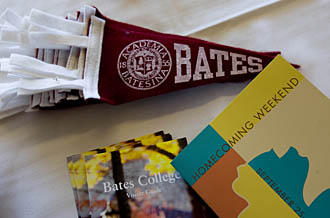 Homecoming 2009, held this year Sept. 25-27, featured NESCAC sports as central to the weekend's fun. Important gatherings also included a Multicultural Center-hosted reception and exhibition for alumni diversity in the arts, a 90th-Anniversary Outing Club reception and a volunteer recognition reception and dinner. See a few of these events and more in this slide show. Photographs by Phyllis Graber Jensen and Marni Lyn Sienko.
Leave a Reply
This is a forum for sharing your thoughts about the preceding post with the public. If you have a question for the author, please email the Bates Communications Office at communications@bates.edu.