New (and Young) Orleans
Young alums make their mark in the wake of a national disaster
By Bill Walsh '86
Photographs by Phyllis Graber Jensen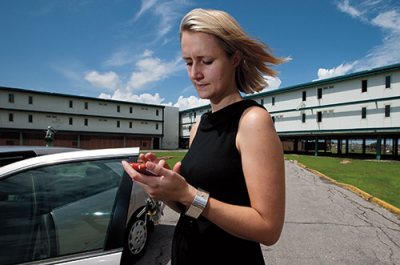 For many Americans, Hurricane Katrina's devastation of New Orleans more than four years ago is a tired old story long since elbowed off the front pages by a historic presidential election, a flagging economy, and a two-front war overseas.
But for others — enthusiastic and committed twenty- and thirty-somethings — New Orleans is an alluring story of opportunity, a once-in-a-lifetime chance to plunge into the trenches of what may be the world's largest urban renewal project.
So extensive was the devastation from the Aug. 29, 2005, disaster that New Orleans has been forced to reengineer and, in the process, fundamentally rethink its systems of public education, healthcare, housing, and flood control. Despite costly missteps and shifting priorities — and partly because of them — New Orleans has become a fascinating and unique open-air laboratory for experiments in how to rebuild a major American city from the ground up.
My former newspaper, The Times-Picayune, has called post-Katrina New Orleans "a beacon for young people." In my own conversations with young Bates graduates drawn to that light, I've heard them talk about New Orleans as their opportunity to put degrees in urban planning, medicine, and education to work and, in the process, leave their imprint on one of the nation's most beloved cities.
Post-Katrina New Orleans was just the sort of blank slate that Morgan Carter '03 was looking for as she wrapped up a master's degree in education from Stanford in 2007. She was less interested in teaching than in education reform, and among the reform initiatives percolating around the country in 2007, few were more tantalizing than what was happening in New Orleans.
The city's public school system had long been plagued by high dropout rates, violence, and political scandal. The public schools had also become arguably the most racially segregated in the country after white New Orleanians, more than a generation ago, began steering their children into private parochial schools.
When Katrina flooded many of the city's 222 schools and scattered tens of thousands of students across the country, reformers saw an opportunity to remake the entire public education system.
It was fertile ground for the explosive growth of charter schools, which give principals autonomy to design curriculum, hire and fire staff, and mete out discipline. Charter schools must meet achievement benchmarks, but how they do it is up to them. Carter conservatively estimates that 60 percent of New Orleans public school students are now enrolled in charter schools, the highest rate in the country.
"New Orleans was primed for a massive overhaul of the public school system," says Carter, executive director of the Foundation for Science and Math Education, an organization that supports two public charter high schools. "It was obvious from the outset that New Orleans was the place to be in terms of education reform."
The proliferation of charter schools in New Orleans has yielded impressive short-term results, Carter says, pointing to the decrease in the percentage of "academically unacceptable" public schools in the city from 63 percent to 32 percent.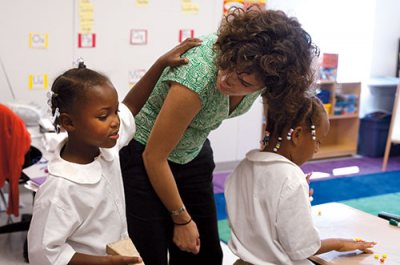 Meg Kinney '08 has also been part of the city's charter school movement. At Bates, Kinney majored in American cultural studies, minored in education, and did an honors thesis on education policy. She had hoped to teach in Harlem after graduation with Teach For America. But TFA had such a need in New Orleans that she headed to the South for the first time in her life.
She was first assigned to a public school in LaPlace, about a half-hour outside the city. But when she saw an opening at a New Orleans charter school named after Bates alumnus and civil rights leader Benjamin Mays '20, she leapt at it.
The difference in the two schools, she says, speaks to a new ethos taking root in the city's school system. "The expectations at charter schools are higher. Our students are expected to be leaders starting now," she says. "People are committed to putting in the time and everyone at the school believes the kids can succeed."
Kinney has resources to buy supplies she lacked before. When she needs to talk to the school principal, she has his ear. School days are longer. And parents are required to come in one Saturday a month to see what their children are studying. Discipline is strict and strictly enforced.
Contrary to some predictions that parents would resist charter schools in their neighborhoods, many have embraced them as a welcome alternative to the failing schools otherwise available to them.
"All I hear is, 'Thank you, thank you. We need this,'" says Kinney.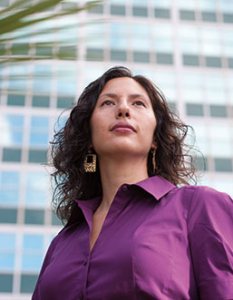 By the time Katrina hit in 2005, Maggie Merrill '98 was gone from the city, having earned a master's degree in public health from Tulane and taken a job in her home state of Washington. Watching the disaster unfold on television, she felt helpless seeing familiar streets flooded and friends' homes washed away.
Then, just months after the storm, she found herself back in New Orleans as a student again. "It was the perfect place to be to do a Ph.D. in urban studies," she says.
Her academic pursuits quickly gave way to more immediate and practical concerns after she was drafted to work in the mayor's office, soon becoming policy director for New Orleans mayor C. Ray Nagin.
Suddenly, Merrill found herself pressing policymakers in Washington, D.C., and Baton Rouge, the state capital, for federal recovery assistance for the beleaguered city. She reviewed revised flood maps drawn up by the Federal Emergency Management Agency. She worked with the Office of Recovery on a soft second-loan program (a second mortgage whose payment is forgiven or deferred until resale of the property) to help residents purchase and rehabilitate flood-damaged homes.
Even before the flood waters from Katrina had receded, the mayor's office became one of the most visible symbols of the failed public response to the storm, a dubious honor it continues to share with FEMA and other federal and state agencies. But Merrill says that many Americans don't understand how deep Katrina's destruction ran. It was about more than levees and flooding.
"The entire city government was wiped out and working off a cruise ship. No one was prepared for that scope," Merrill says. "We're getting criticism for a slow recovery. When you read about other major disasters, we're talking 20 to 30 years before the infrastructure is completely rebuilt and cities fully recover."
"Members of Congress felt like they appropriated billions of dollars and their job was done."

Merrill also said that misconceptions about the complexity and enormity of the recovery even extend to the policymakers in Washington, who OK'd billions of dollars to remake the city. So great was concern that the money would be misspent that Congress added layers-upon-layers of checks and balances, resulting in a massive administrative bottleneck at the local level. In fact, only about 50 percent of the FEMA money earmarked to rebuild the area has gotten through to various city and parish governments, according to a Brookings Institution report.
Funds to rebuild public infrastructure, says Merrill, are even slower to arrive. "Members of Congress felt like they appropriated billions of dollars and their job was done," she said. "The feeling is that the money has been put in place and it's the responsibility of the state and local governments to take care of it. Well, it's harder than you might think to navigate the bureaucracy."
Nonetheless, Merrill notes, there have been dramatic improvements since the disaster. According to the Census Bureau, New Orleans is the fastest-growing city in America and the population in back to 76 percent of pre-Katrina levels. Some $8 billion in grants have gone to nearly 125,000 uninsured owners of homes badly damaged in the storm. And 90 percent of the people who received grants in Orleans Parish, even though they had the opportunity to take the money and leave, have opted to rebuild.
Despite people's willingness to return, a persistent problem in post-Katrina New Orleans is the lack of adequate healthcare, especially for the half of the population that lacks insurance. The city's major public medical center, Charity Hospital, remains closed, and though a $100 million federal grant has funded 91 community health clinics, it's been hard to staff these clinics. That's because many healthcare support workers are priced out of the city by the $733 average rent, despite cash bonuses to attract healthcare workers.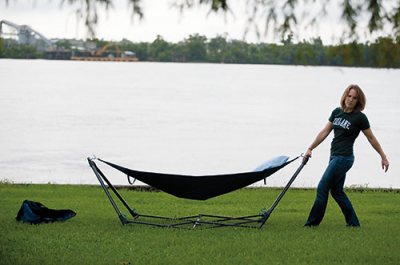 That's where medical students like Katie Unger '06 come in. Unger decided to attend Tulane Medical School in New Orleans partly because of the stark healthcare need in the city.
"When I came down for my interview, it was really appealing because the city was rebuilding, and there were opportunities for students you wouldn't find anywhere else," she says.
One of those opportunities has been at a community health clinic where medical students provide the primary care to low-income and usually uninsured patients. "People need so much help they will go see students," she says.
And hospitals are so shorthanded that second-year medical students like Unger find themselves plunged into surgeries and trauma treatments that they normally wouldn't see until much later.
Unger, like others who have come to post-Katrina New Orleans, acknowledged that the charming allure of the city also played a role in her decision to relocate. A New Hampshire native, she has three more years of medical school and is already thinking of applying for residencies in the area.
"I have absolutely fallen in love with New Orleans," Unger said. "With all of the music and the food it is a completely different culture than I have ever been in."
Morgan Carter, whose work with charter schools is aimed at nothing less than providing educational equity for all children, says that the enthusiasm of those who have come to take part in the rebuilding is infectious, and inspiring.
"It's part of what keeps so many of us here," says Carter. "There are so many folks in my age range who share a commitment to the city. They share a deep passion for the work they are doing. And there is so much opportunity to do good here."
Bill Walsh '86, a strategic adviser for AARP in Washington, D.C., is a former reporter for The Times-Picayune of New Orleans.
View Comments