Open Forum
Letters to the editor from the Fall 2009 issue of Bates Magazine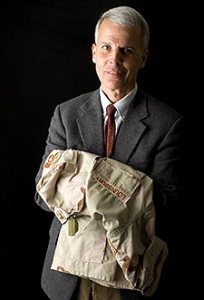 Lounsbury Letters
I've never read an alumni magazine article that affected me as much as your cover story about Dr. Dave Lounsbury '72 ("The Good Doctor"). Writer Jon Halvorsen does a great job of making us believe in Lounsbury's deep seriousness, bravery, and moral excellence. I was very moved by how Lounsbury, as a Bates student, visited his wounded brother at the veterans hospital in Philadelphia.
As an American who has felt devastated from a distance by all the death and suffering caused by two unnecessary wars, in Vietnam and Iraq, I was inspired by the way Lounsbury made use of his expertise to make people aware of what war does to human flesh. And I love the way the article ends, not with righteousness but with questioning. Thank you for reminding me, and plenty of others I'm sure, of our own capacity for moral action.
Judith Hollenbach Yarnall '62, Johnson, Vt.
Thanks to Jon Halvorsen for a terrific story, told so eloquently, about Dave Lounsbury, and thanks for giving us a glimpse of a reality that most people never see. Dave is the most self-effacing person I know, and he'll be the last person to tell you about all he's accomplished. Halvorsen got him to open up about not only writing a groundbreaking book but also standing up to the military in order to get it published.

Pam McCormack Green '72, Cumberland, Maine

I just found my friend and fellow vet, Dave Lounsbury, lying on the couch near my kitchen — or rather I saw the Summer issue of Bates Magazine with Dave and his wry smile on the cover.
"The Good Doctor" is aptly titled, and Jon Halvorsen's article, "The Wounds of War," is an excellent summation of a fine alumnus. Anyone who attended Dave's informal lecture last winter in Chase Lounge would agree that he is a most humble and compassionate man, and a citizen of whom all Bates can be proud.
It is often said that since the Vietnam era, military officers come mainly from the South, that the North is a bastion of anti-war liberalism, and that its campuses are antagonistic to military recruiters. There is truth in this critique; even the good doctor recalls the anti-war sentiment at Bates while he was a student. As a consequence, it is a tribute to Bates today that Col. Lounsbury was honored as the College Key's Distinguished Alumnus in Residence and that his photo, showing him holding his military uniform, graces your magazine's cover. Perhaps Bates is indicative of changes in American attitudes toward those who serve. We may and should argue with the justifications for declaring war while at the same time honoring those who are called to do the unpleasant work of war.
Dave and I have discussed the unjustness of the current situation, with so few from society being asked to do so much. There has never been such a high suicide rate as is currently found among veterans of Iraq and Afghanistan. There hasn't been such a high percentage since the Civil War of maimed soldiers continuing to live after the battle.
One hopes that the Bates community would continue to be sensitive to these men and women when meeting them in society. And one would hope, especially, that those of you who end up serving in politics would understand that war is not an option in politics. War is failure of politics. That understanding would be the best way to honor your fellow Batesian, Dave Lounsbury.

Richard Fochtmann, Leeds, Maine

I was excited and delighted to read the feature article on Dr. Dave Lounsbury — and to learn that I am not the only alum serving in the Army Medical Corps. I have just completed my third combat tour since 2003, providing medical support to the soldiers serving Operation Enduring Freedom and Operation Iraqi Freedom. I enjoy reading Bates Magazine and learning about our many talented alumni. Dr. Lounsbury is a great example of the leadership and "service above self" that characterize Bates people.

Todd Chace '75, Englewood, Fla.

As brigade surgeon for the 168th Engineer Brigade, near Sharana, Afghanistan, the writer was awarded the Bronze Star for leadership in developing a guidance protocol and tracking process for Minimal Traumatic Brain Injury; for impacting environmental improvements in waste management; and for initiating a health promotion campaign for the soldiers. In his capacity as state surgeon for the Florida Army National Guard, Dr. Chace oversees the guard's medical readiness in Florida. — Editor

Photo Correction
What a pleasure to see the 1893 photograph of Fred Knapp and Emily Cornish from the Bates production of Twelfth Night (Scene Again, "1893: Women and Men," Summer 2009). It was particularly meaningful for me because the first Bates production that my twin brother and I were cast in was Martin Andrucki's Twelfth Night, in 1999.
Few people realize that Bates students a century ago played a leading role in this country's Little Theater Movement, considered the foundation of today's community theater model. Indeed, the Robinson Players, who can trace their roots to the 4A Players, founded in 1922, are one of the oldest student collegiate theater troupes in the country. The original Hathorn Hall theater was called the Little Theatre, and student-produced theater was a staple of Bates campus life for 50 years before the College first offered a theater major, in the early 1970s.
As a minor correction to your story, it is clear from the identical costuming of Knapp and Cornish that they were playing the parts of the separated twins, Sebastian and Viola, and not, as the article suggests, Duke Orsino and Viola.
Matteo Pangallo '03, Leverett, Mass.
The writer is in the Ph.D. program in English at the Massachusetts Center for Renaissance Studies at the University of Massachusetts–Amherst. — Editor

Thank you for the Scene Again story about the men-to-women ratio in the 1890s. However, as much as I delight in references to Monty Python, the song "Men, Men, Men" was, in fact, performed by Martin Mull.

Andrew A. Kling '83, Fairfax, Va.

We conflated Monty Python's "Spam" sketch, where the Vikings in the cafe sing "Spam, Spam, Spam," and the Mull sketch. — Editor
A Dressing Down
I am disgusted by the photograph of two graduating seniors dressed up as Hindu deities (Postcard from Campus, Summer 2009) during the Pub Crawl. Bates does not usually produce such culturally insensitive, arrogant ignoramuses, but I suppose there are exceptions. And it's baffling that the editors would highlight such abominable behavior in a magazine mailed to alumni and parents worldwide. As a Sri Lankan student at Bates, and as the recipient of a thesis grant, I certainly "traveled through" the United States but did not feel that the best expression of my newfound erudition would be to participate in a beer-soaked bacchanalia decked out as Mary Magdalene or Jesus Christ.
Ru Seneviratne Freeman '94, Bala Cynwyd, Pa.

The writer is author of A Disobedient Girl (Simon & Schuster, 2009). — Editor
Hearth and Home
At Reunion, I was curious and a bit anxious to see New Commons. When I walked into the large room with its high ceilings, I stood rooted in place, momentarily overwhelmed. Then I saw a familiar Dining Services employee. She came right over to me. "How have you been?" she asked with a big smile. Immediately, I felt like I had come home.
My first memorable experience with Dining Services occurred in the fall of freshman year. My twin sister was visiting, and we wanted to bake a pie. (Baking pies was something of a ritual for us, and during the chaos of freshman year such rituals took on great importance.)
But while we had ingredients and an oven, we didn't have a single bowl or spatula. I shrugged. "We'll just ask Dining Services," I told my sister. "I'm sure they'll let us borrow something." She didn't believe me, but I was right. We marched over to Commons, explained what we needed, and were immediately guided downstairs through Chase's labyrinthine corridors. The head baker filled our arms with baking equipment, trusting us to bring everything back, which we did a few days later.
Looking back, I'm surprised how naive I was to think that I could just show up and ask for equipment. But I could, and that's just one example of how Dining Services and Commons create a home-away-from-home for Bates students. It's literally the campus hearth and the very heart of Bates.
Like parents, they nurtured us, encouraged us, and fed us. They were always enthusiastic about student events and eager to help us. When we tromped to Commons for late-night snacks during finals — everyone exhausted and stressed out, often unshowered and wearing pajamas — the staff was there for us, smiling and asking how the studying was going.I loved the feeling of camaraderie and commiseration in our communal kitchen.
Commons looks different now. It's in a new, efficiently designed building with lots of shiny appliances. But what makes Commons special — the people — hasn't changed one bit.

Jennifer Ambrose Lyford '04, Swampscott, Mass.
Werner Deiman
I was saddened to hear of the death of Werner Deiman (Deaths, Summer 2009). He was the Bates professor most influential in my education, always treating me with the utmost compassion and respect, callow as I was.
As a senior, I was his teaching assistant and he was my honors thesis adviser. That summer, I tried to read all of James Joyce in preparation for the thesis we would be working on together, and had managed to read 200 pages of Finnegans Wake before giving up. I had an appointment to meet with him and intended to discuss the situation rationally.
Instead, I burst into tears. Professor Deiman stood next to this sobbing undergraduate, patting me on the shoulder. "Lynne, we'll get around it," he said. "We can leave out Finnegans Wake. We'll think of a way to not include it." I've always been grateful that he didn't treat me as if I should have been able to deconstruct Finnegans Wake in a few months.
I remember a group of us leaving one of the parties that he and Brad Daziel used to throw for English majors, a little worse for the wine we had been sophisticatedly sipping. As I focused hard on the long set of central stairs outside their apartment, Professor Deiman leaned over the railing above us and called, "You're an inspiration, all of you!"
With those memorable words, Professor Deiman revealed the underpinnings of the student-teacher relationship. We, after all, felt inspired by him.

Lynne Patnode Nadeau '78, Salem, N.H.
Please Write!
We love letters. Letters may be edited for length (300 words or fewer preferred), style, grammar, clarity, and relevance to College issues and issues discussed in Bates Magazine. E-mail your letter or postal-mail it to Bates Magazine, Office of Communications and Media Relations, 141 Nichols St., Lewiston ME 04240.
View Comments