The Gap Band
For some students, a year off the college track is just the ticket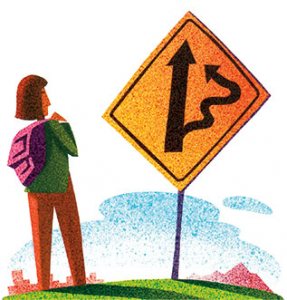 The Bates admissions office is pretty down-to-earth, so when Dean Wylie Mitchell is curious about a student trend, he can employ a deceptively simple strategy: Order a pizza delivery, invite some students to Lindholm House for dinner, and ask them to chat as they munch on the pies.
Such was the recent scene when a dozen Mitchell invitees — all of whom had taken a gap year before coming to Bates — gathered to share a slice of their lives. Talking with the students, Mitchell hoped, would help him understand how gap-year experiences — fun? frivolous? foolhardy? — might affect their attitudes as Bates students.
Blake Shafer '13 of Haverford, Pa., worked at a Philadelphia investment firm for part of the year, but he took the year off mainly for family reasons, not financial ones. "My father told me that he would probably not be able to hike the Appalachian Trail at 55, but he could do it at 51." The duo set off on March 8 and made it to Mount Katahdin on July 27, a 142-day adventure that featured 55 days of rain and, for his father, the loss of 39 pounds.
By senior year at the Liberal Arts and Science Academy in Austin, Texas, Natalie Thompson '13 felt burned out. For most of her gap year she interned at the Big Bend National Park in West Texas as a park interpreter, talking to visitors about biology, botany, and even bats — a good-not-great experience. "I liked the science but didn't like answering the same questions over and over." She'll focus on environmental science at Bates.
Did Bates, after these expansive adventures, feel small to these students? On the contrary, said Heldman.
Longtime mountain and rock climber Mike Sagan '12 began saving money as a high school freshman to fund his gap-year dream: roving the Western U.S. and Canada, climbing various peaks with his girlfriend, and living the good life in an SUV and camper. "At least compared to some other climbers, who were living under their cars," he said.
Two accomplished alpine skiers, Bump Heldman '12 of Auburn and Maddy Talias '13 of Wyckoff, N.J., chased the snow during their gap years. Heldman happily ventured up and down the Western Hemisphere as a junior member of the U.S. Ski Team. Talias' experiences proved more poignant. "I fell and got my sixth concussion and ended my skiing career," she said. "My year off turned out to be educational and expanding in a way that I never thought it would. I moved back home to New Jersey, got certified to tend bar, took some film classes in the city, and reassessed what I wanted to do with my life."
Other student adventures: working for a blind goat farmer on an Irish farm; helping with Seattle's plastic-bag tax referendum; fishing commercially for Pacific salmon off the Alaska coast; and serving as Massachusetts Gov. Deval Patrick's "body guy," a 24/7 assistant unique to the political realm.
But did Bates, after these expansive adventures, feel small to these students? On the contrary, said Heldman, the experience gives you the tools to enjoy Bates and Maine. To appreciative laughter, Ursula Sandstrom '13 of Seattle pointed out that learning to do your own laundry eliminates a big part of the early-college learning curve.
Dean Mitchell points out that most gap-year students — about a dozen annually — are first accepted to Bates, then choose to defer their matriculation for a year. That tells Mitchell that their fab experiences aren't meant to build a resume but "to build a foundation for studying at Bates."
Based on what he heard at that pizza dinner, it works. "Gap-year students enroll at Bates with greater personal confidence and independence," he says. "They truly hit the campus at a higher RPM."
View Comments