Slide show features 2010 President for a Day
• View the slide show by clicking the thumbnails. Photographs by Phyllis Graber Jensen
Day Tripper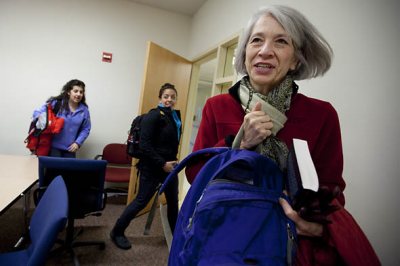 President for a Day at Bates annually has a student (Margaret Koerber '10 of New Orleans this year) tending to Elaine Tuttle Hansen's to-do list while President Hansen experiences the student's typical day.
"I think one of the most important capacities we aim to teach at a liberal arts college is how to see things from multiple perspectives, and it's also one of the hardest things we ask people to do," says Hansen. "So a primary reason for this little experiment in trading places with a student is to give myself an opportunity to see from a very different perspective what Bates looks like on any given day."
Leave a Reply
This is a forum for sharing your thoughts about the preceding post with the public. If you have a question for the author, please email the Bates Communications Office at communications@bates.edu.