Former U.S. undersecretary of state for African affairs to speak about African leadership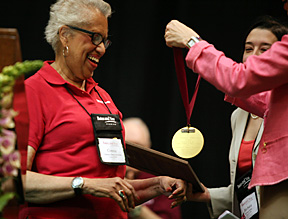 Constance Berry Newman '56, a former U.S. State Department diplomat for African affairs, presents the lecture Expectations of 21st-Century African Leaders: Too High or Too Low? at 7:30 p.m. Thursday, March 4, in the Edmund S. Muskie Archives at Bates, 70 Campus Ave.
Sponsored by the Alumni and Parent Programs office, the event is open to the public at no cost. A former Bates trustee, Newman is in residence at the college through March 5 as part of the College Key Distinguished Alumni in Residence program. She will visit classes and meet with students during the residency.
In 2001, Newman became an assistant administrator for Africa at the United States Agency for International Development, the agency that administers economic and humanitarian assistance worldwide. In 2004, Newman was appointed assistant secretary of state for African affairs, a post from which she has since retired.
A political science major at Bates, Newman earned her law degree from the University of Minnesota. She moved to Washington, D.C., in 1962. Despite her law degree, the only employment she was able to obtain was as a clerk typist with the U.S. Interior Department. She remained at Interior until 1967, rising through the ranks to the position of personnel manager.
After serving as special assistant to Elliott Richardson, head of what is now the Department of Health and Human Services, Newman was appointed by President Richard Nixon to serve as director of Volunteers in Service to America (VISTA), the domestic Peace Corps.
During the next 15 years, she held such positions as director of the Consumer Product Safety Commission, assistant director of Housing and Urban Development and co-founder of Newman and Hermanson Company, a consulting firm specializing in government regulatory procedures.
In 1984, Newman began working as a private consultant on issues related to Africa, including a World Bank project for which she lived in the South African country of Lesotho. In 1989, President George H.W. Bush appointed her director of the Office of Personnel Management, and in 1992 she served as undersecretary of the Smithsonian Institution.
Bates honored Newman with an honorary degree in 1972 for her diligent efforts to solve social problems in America, and in 2006 presented her with the Benjamin Elijah Mays Award.
View Comments