---
Senior Exhibition 2010: Elizabeth Denham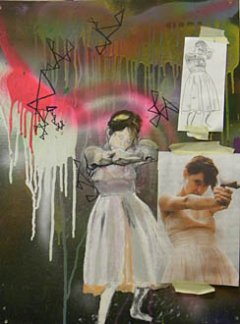 Denham uses such varied media as acrylics, spray paint, collage and stencil to create a style she terms "pop crap." Interested in both fashion and the deterioration of manmade structures and materials, she creates heavily layered art that reveals more the longer one looks.
---
Categories: Annual events, Class of 2010, Creativity.
Tags: Senior Exhibition.
Contact Us