Better and Faster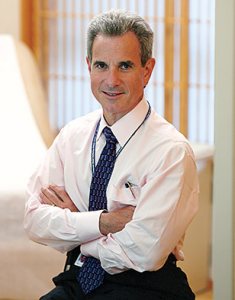 Compulsive about patient care yet equally engaged in the lab, Dr. Howard Scher '72 works to create better prostate cancer drugs and get them to market faster
By David McKay Wilson
Patients from around the world flock to Memorial Sloan-Kettering Cancer Center in Manhattan to be treated by Dr. Howard Scher '72, one of the world's foremost authorities on prostate cancer, a disease that will afflict one in six men during their lifetimes.
But while Scher still has regular office hours at Sloan-Kettering each Monday and Wednesday, he's equally driven by the hunt to discover better treatments for his patients. This restlessness with the status quo came over him during his initial research experiences while at Bates.
"I wanted to offer things to help patients beyond the traditional treatments," says Scher, chief of the genitourinary oncology service at Sloan-Kettering, where he has been on staff since 1983. "If you are stuck using treatments that are ineffective, it can be depressing."
Growing up on Great Neck on Long Island's North Shore, Scher wanted to be a doctor since he was 6. At Bates, he majored in chemistry and recalls a growing fascination with biochemistry and genetics, which he pursued during the summers of 1971 and 1972, traveling to the Weizmann Institute of Science in Israel to conduct immunology research.
"During those summers, I got the bug. It set the tone for what I wanted to do," says Scher, a former member of the Bates Board of Trustees who earned his medical degree at the NYU School of Medicine.
Those formative opportunities, he says, are also why he annually funds Bates Ladd internships at the cancer center, helping to groom the next generation of laboratory and clinical researchers. He has also established the endowed Scher Fellowship Program at Bates to bring students to MSK to pursue research projects for college credit. (One former Scher intern is William DePaolo '99, who has a Ph.D. in immunology and microbial pathogenesis. He now offers a Bates internship in his own lab at the University of Chicago.)
Howard Soule is chief scientist at the Prostate Cancer Foundation, which has funded Scher's research. He says Scher's lofty reputation — both among men worldwide seeking the latest treatments, and among foundations, pharmaceutical companies, and government officials involved in fighting the disease — derives from his passion for the work.
"He's very intense," says Soule. "He's very fair, and has an extraordinary intellect."
Longtime colleague Dr. Neal Rosen, a member of MSK's Department of Medicine and Program in Molecular Pharmacology and Chemistry, points to Scher's twin abilities to focus both on treating patients and working with laboratory researchers.
"He's compulsive about taking care of his patients," Rosen says. "He also knows all about the genetics and molecular mechanisms of the disease, so he's able to develop new strategies for the way we care for patients with prostate cancer."
Treatments for prostate cancer abound and can include combinations of surgery, radiation therapy, proton therapy, hormonal therapy, chemotherapy, cryosurgery, and high-intensity focused ultrasound.
When treating prostate cancer, says Scher, it's critical to "avoid using treatments on patients for whom they won't work."
That's why part of Scher's research involves creating new blood tests that characterize the unique biologic makeup of an individual patient's tumor, so better treatments can be selected. Along the way, he's also trying to develop drugs that target specific mechanisms contributing to prostate cancer cell growth.
When it comes to diagnosing prostate cancer, a physician typically uses a PSA test, which measures the amount of prostate-specific antigen in blood. But the PSA test only detects the likelihood of prostate cancer in a patient. The equivocal nature of the PSA, plus prostate cancer's slow progression — it can take up to 20 years to affect a man's mortality — has caused cancer experts like Scher to be cautious about recommending the test.
In fact, Scher recommends giving the PSA test and digital rectal exams only to healthy patients expected to live at least 10 years. (Men should discuss this with their physicians, he adds.) Similar to the recently revised mammography guidelines, the PSA guidelines reflect global efforts to target treatment to those who will benefit, and to avoid subjecting healthy patients to unnecessary medical procedures.
"Once you have the diagnosis, people get worried, and that can lead to overtreatment," says Scher, reflecting the modern Hippocratic oath to "avoid those twin traps of overtreatment and therapeutic nihilism."
Besides his own research, Scher is the principal investigator for the Prostate Cancer Clinical Trials Consortium, a network of 13 cancer research centers whose collective goal is to get needed drugs to patients faster.
The consortium is funded by the U.S. Department of Defense and the Prostate Cancer Foundation, a spinoff of the Milken Family Foundation, whose founder, financier Michael Milken, was diagnosed with prostate cancer in the 1990s. "Milken really encouraged people to use a business model in medical research," says Scher. "They wanted short, focused proposals, and they weren't afraid to take a chance on good ideas with limited data that needed support for the basic research. Now we are seeing the fruits of that investment."
One drug just recently moving to Phase III is MDV3100, developed for patients with advanced prostate cancer. The drug represents a form of hormonal therapy, which works by inhibiting the androgens that stimulate the growth of prostate cancer cells. Under current hormonal therapy options, "the effects are not durable, and virtually all tumors eventually progress," Scher says.
MDV3100 picks up where other hormonal drugs leave off, with trials showing that it does a better job at suppressing the androgen receptor pathway, thereby lowering androgen levels.
Working with the Clinical Trials Consortium, Scher is right now leading the promising drug into an international Phase III registration trial that will enroll 1,200 patients worldwide.
As he talks about MDV3100, his voice perks up. "This," says Scher, "is the exciting part."
New York-based journalist David McKay Wilson writes regularly for college magazines around the country.
View Comments