---
Campus Construction Update: Week of May 17, 2010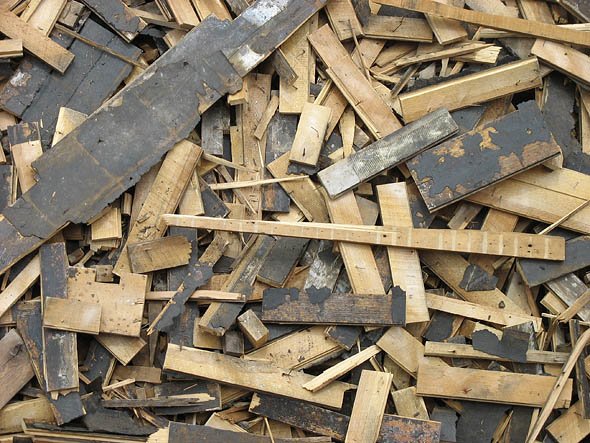 Nails and nails.
Nails poking out of scrap wood that used to be the walls inside Roger Williams Hall. Nails lying pointedly in wait for a soft-soled shoe. Bent nails scattered on the floor in the wake of a construction worker who, walking back and forth with a crowbar, yanks nails out of the floorboards, one after the next, over and over.
And here we'd been thinking that it would be fun to gut a building. But not for the nail-pulling guy.
What happens to all those nails? We asked Paul Farnsworth, project manager for the renovation of Hedge and Roger Williams halls.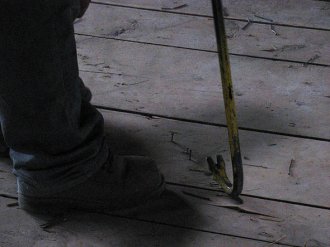 General contractor Wright-Ryan Construction separates its waste stream, he replied, and the nail metal is recycled. "We ask for that in our specifications, but that's a standard procedure for Wright-Ryan."
Included in the waste recovery are nails still embedded in wood that has been ripped out of the two buildings and flung out the windows into trash containers for the past two months. When the wood is ground up for use as biomass fuel, magnets extract the metal for reuse.
---
The Garcelon Field renovation joins the Hedge-Roger Bill project when Campus Construction Update returns on June 11.
---
We encountered the nail-pulling guy and other workers during a May 18 photo tour of Hedge and Bill. The many other impressive sights included a man busting up concrete in Hedge's basement with a jackhammer mounted on a compact tractor.
But what really awed Campus Construction Update was two mountains of broken wood — well, one mountain and one foothill — on the fourth floor of Roger Bill. These random scrap heaps of wood (and nails!) were once the walls that you pinned your Betty Grable or Jimi Hendrix pictures on, and that you pounded against when the noise from next door was cutting into precious sleep.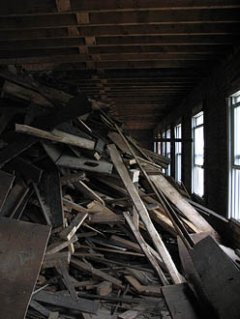 Now the remnants of these walls are headed for an open window and the trash container waiting below. One difference from the old days, Farnsworth pointed out, is that a lot more wood goes into a bin now than previously.
"They get charged by the number of containers," he explained, "so they're very good at stacking it to get the most out of each load." That is, someone climbs into the bin and moves the wood around.
Speaking of the Bill's windows, they too will be pretty much gone by the week of May 24. As with Hedge, the intact units will be sold by a salvage broker for reuse.
Otherwise at the Bill, the concrete crew will soon pour footers for the steel skeleton and pour one-sided walls to reinforce what's there now. Excavators will trench around the foundation for drainage and dampproofing work similar to what's been done at Hedge.
In Hedge's basement, most of the concrete has been poured is done. A major exception is the pit for the new elevator. That'll require a rigging job that Campus Construction Update is eager to see.
Workers will run steel beams horizontally through holes cut in a concrete wall. Supported at the ends, that steel will take the weight that the wall is now bearing — holding the building up, you see — and then the wall section underneath the steel will be cut away so the pit can be built. Then the wall will be replaced.
Up in the light of day, workers today were filling in the trench around the Historic Quad side of Hedge. Once that's done, workers can erect staging for the masons who will repoint some brickwork.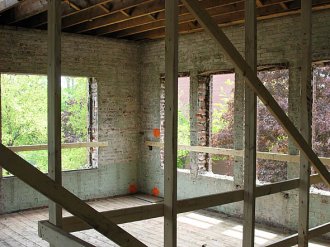 Higher up still, the roof removal we talked about the other week is still pending. With recycling on our mind (along with nails), we asked if the roof slates could be reclaimed or reused.
"Although slate is rock, it doesn't have an unlimited life," Farnsworth said. "Are there pieces in there you could reuse? Likely, but by the time you've handled it 50,000 times, you don't come out ahead."
Notes from underground: The new gas line between Hedge and Ladd Library was laid late last week. That line needed rerouting because the addition to Hedge will be built over its old course, next to Alumni Walk. For a similar reason, an old clay sewer pipe on the same side of Hedge will be replaced next week, since it won't be too accessible underneath the expanded building.
Can we talk? Campus Construction Update welcomes your questions and comments, unless they're mean, about the Hedge-Roger Williams renovation project. Please e-mail staff writer Doug Hubley at this E-mail, stating "Construction Update" in the subject line.
---
Categories:
Hedge and Roger Williams renovations
,
Physical improvements
,
Video
.
Tags:
Hedge Hall
,
nails
,
Roger Williams
,
utilities
.
---
Contact Us