Connections: Calling All Bobcats
• Click the thumbnails below to view the slide show
The first athletics-wide celebration in years summons the Bobcat faithful
By H. Jay Burns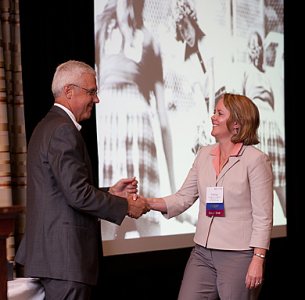 Carolyn Campbell-McGovern '83 figured that the recent Athletics Celebration Dinner was a success when she heard familiar laughter from a table nearby.
Campbell-McGovern was sitting up front with her mother, other honorees and their families, and President Hansen. The elegant setting "was very special," she says.
Nearby, friends from her field hockey and lacrosse days were enjoying a Bobcat mashup with other generations of alumnae and "really having a great time," Campbell-McGovern says with a laugh.
"That's the kind of night it was — a tribute to great Bates spirit, where everyone supports each other."
The evening featured a number of awards (Dan Doyle '72, for example, was inducted into the Scholar-Athlete Society that he helped found five years ago) plus a tribute to the late Robert Hatch, Bates' longtime athletics director and professor emeritus of physical education.
It was delivered by Trustee Ed Wilson '62, who neatly distilled the elements of Bates spirit when he described Hatch and the late Dean of Admissions Emeritus Milt Lindholm '35 as true "patriots" of Bates athletics.
"UCLA had John Wooden; Bates College had Bob Hatch," said Wilson.
The event at Boston's Seaport Hotel and World Trade Center reflected the spectrum of Bobcat sports, from coaches and senior staff to former All-Americans, Bates award winners, and those most loyal partisans, parents and relatives.
"Isn't this great!"
President Hansen welcomed the group by noting how Bates understands that "passion for athletics only deepens over time." Jeff Price '87, the new publisher and president of The Sporting News, served as emcee and said the evening was about "pride and excellence." Director of Athletics Kevin McHugh stood behind the lectern, looked out at the 200-plus crowd, paused, and said, "Isn't this great!"
It's been a while since Bates hosted a major Bobcat celebration — but not hard to draw a straight line between then and now.
In 1973, for example, a "Friends of Bob Hatch" testimonial honored Hatch when he retired as football coach. Attending that event, among others, was Steve Brown '69, just a few years removed from a football career under Hatch.
Flash forward 37 years to the June event, and there was Brown, now a Trustee, receiving one of several newly created Bates Best awards (see sidebar) for his athletics contributions, including his role in establishing the Friends of Bates Athletics program.
And back in 1979 at the Park Plaza in Boston, the last big all-sports dinner helped raise funds for Merrill Gym. William "Chick" Leahey '52 was there in his role as baseball's winningest baseball coach under AD Bob Hatch. And in June 2010, there was Leahey, retired since 1990 and soon to turn 85, receiving the first Robert Hatch Award for "demonstrating a passion for Bobcat athletics."
Campbell-McGovern, who received a Bates Best athletics award, liked the way the Leahey and Hatch tributes reminded her of her Bates experience.
"Bob Hatch was a great administrator. From where I sit now, I appreciate that fact even more," says Campbell-McGovern, deputy executive director for the Ivy League.
She says she was a Bates athlete "at a really good time" for women, as Hatch and others were attentively moving Bates sports toward true coeducation. "I never felt disparity between men's and women's programs," she says. As a captain, "I would've noticed it." She does recall asking in her freshman year why the football team was allowed to arrive on campus before classes, "but then the field hockey team was allowed to arrive early by my sophomore year."
And while fundraising was a background theme at the June event, attendees did buzz about the ongoing Garcelon Field project to install a FieldTurf surface plus new grandstands, lights, and press box. The $2.6 million project, as a matter of fact, is entirely donor-funded.
Bestest Behavior
Newly created this year, Bates Best awards recognize significant work by alumni and parents that engages Bates people with the College and that displays passion and commitment for advancing the Bates mission.
The Bates Best awards presented at the Volunteer Recognition Dinner in May honored volunteer work during 2009–10, while at the Athletics Celebration, Bates Best awards recognized lasting contributions to the Bates athletics program.
Volunteer Service
Reed Chisholm P'13
Renee Leduc Clarke '98 and Liam Leduc Clarke '98
Weston Bonney '50
Michael Charland '93
Alan Green '75
Larry Handerhan '05
Jennifer Glassman Jacobs '00
Judy Marden '66
Sarah Pearson '75
Jennifer Guckel Porter '88
Christian Rogers '04
James Ross '85
Ken Spalding '73
Bill Sweat '79
Kathy and Bob Whelan P'05
Jim Wylie '60
Athletics Achievement
Steve Brown '69
Carolyn Campbell-McGovern '83
Ira Waldman '73
Lynn Willsey '54
Becky Flynn Woods '89
View Comments