Campus Construction Update: Sept. 3, 2010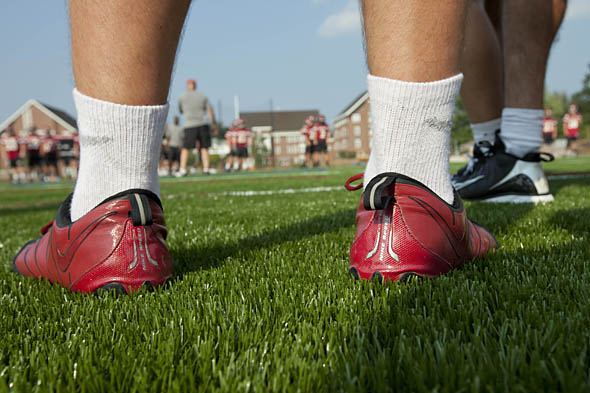 The new FieldTurf playing surface at Garcelon Field is "phenomenal," says one Bobcat. Roger Williams Hall is steeling itself for snow and earthquakes. And sometime soon the eagle will land at 10 Frye St.
Though the grandstand has yet to be erected and there's still work to do surrounding the gridiron, the playing field was declared ready for action late last week and the first-ever practice took place Aug. 31. "The surface is phenomenal," Bobcat center and co-captain Brendan Murphy '11 said on Sept. 2, during the football team's third practice on the renovated Garcelon Field. Read more about the Garcelon Field project.
Paul Farnsworth, unlike Cole Porter, wants to be fenced in. Or at least he wants for the renovation of Roger Williams and Hedge halls to stay within its fenced-in work zone. But his goal, paradoxically, is the same as Cole's: unrestricted mobility. Now, thanks to the end of construction work outside the zone, wandering over yonder is almost as easy as it ever was. Read more about the renovation of Hedge and Roger Williams halls.
In an e-mail slugged "The eagle will land," Facility Services project manager John Rasmussen alerted Campus Construction Update to a new development at the 10 Frye St. student residence. An eagle-shaped weathervane believed to be original to the 1873 carriage house at the site is scheduled to return to the roost the week of Sept. 6. Read an update on the new student residence at 10 Frye St.
Can we talk? Campus Construction Update welcomes your questions, reminiscences and comments about campus improvements. Please e-mail staff writer Doug Hubley at this E-mail, stating "Construction Update" in the subject line.
---
View the slide show below by clicking the thumbnails:
View Comments