Daily Series: Lambright '12 explores the African immigrant experience in Guangzhou, China
As summer enters its final week, we are sharing stories from students who had Bates-related summer experiences, each day through Sept. 21.
Name: Daniel Lambright '12
Major: Politics and Philosophy
Hometown: Columbia, Md.
Summer activity: Studying the experience of African immigrants in Guangzhou, China, under a Tanaka Foundation grant
Lured by the chance to buy, sell and export cheap consumer goods, Africans continue to pour into the Chinese city of Guangzhou, and the city's thriving "Little Africa" is now home to 20,000 Africans, maybe many more.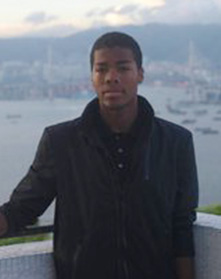 Into this community last summer came politics majors and budding researchers Daniel Lambright '12 and Obi Udeh '12.
"Our focus was to find out the motivations and experiences of the African migrants through individual and group interviews," Lambright says. "Specifically, I focused on the ways the migrants were experiencing and perceiving the authoritative Chinese legal regime."
"I have a greater world view," Lambright says.
Lambright tells about interviewing several men after a church service. "One particular story stood out," he says.
A Nigerian was using an agent to find a Guangzhou apartment, and the agent told a prospective landlady that his client was black. The landlady asked, "American black or African?" to which the agent replied, "American." As Lambright explains, "The agent knew about the negative associations that the Chinese have toward Africans."
And when the landlady eventually saw the renter's Nigerian passport, "she kicked him out and did not rent the property to him," Lambright says.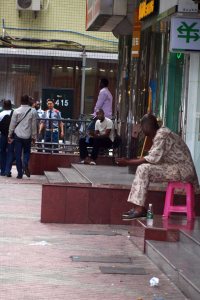 Over the summer, Lambright, who is also majoring in philosophy, learned specific research skills, like how to write grants, conduct interviews with "absolute strangers" and synthesize collected data.
He picked up new perspectives, too.  Hearing stories of struggle and hardship "challenged [my] objectivity as a researcher," they gave him a "deeper perspective on what goes on in life outside of theories and books."
"I have a greater world view," he adds.
The students' project "was entirely their initiative."
Udeh's faculty adviser for the project was Assistant Professor of Politics Clarisa Perez-Armendariz, and Lambright's adviser was Visiting Assistant Professor of Politics Leila Kawar.
Kawar says the students' project "was entirely their initiative. Daniel had taken my seminar on Constitutional rights and social change, where he wrote an interesting paper on legal consciousness of early 20th-century African American organizations."
Lambright and Udeh's research was funded by a grant from the Tanaka Memorial Foundation of Japan.
View Comments