Reading series presents esteemed poet McNair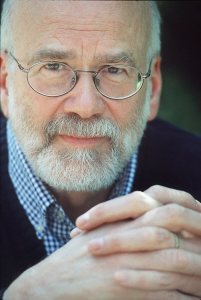 One of Maine's most respected poets, Wesley McNair visits Bates at 7:30 p.m. Thursday, Oct. 28.
His appearance, part of the Language Arts Live series of literary readings at Bates, takes place in Skelton Lounge, Chase Hall, 56 Campus Ave., and is open to the public at no cost. For more information, please contact 207-786-6326 or 207-786-6256.
Language Arts Live brings highly regarded writers to Bates to read from and discuss their work. The series is sponsored by the English department, the Learning Associates Program, the Bates Humanities Fund, the programs in African American studies and American cultural studies, and the John Tagliabue Poetry fund.
One of Maine's most effective advocates of the art of poetry, McNair's poems have won praise from readers, reviewers and fellow poets alike for more than 40 years. Intended to be "both accessible and complex," as a reviewer for the Minneapolis Star Tribune wrote, his lines find truth in the small, often overlooked events of our common existence.
His most recent book is Lovers of the Lost: New & Selected Poems (David R. Godine, 2010), which showcases some of his best poetry from six previous volumes and a sampling of new work. He has authored or edited 18 books, including poetry, nonfiction and anthologies.
In 2006, McNair was selected for a prestigious United States Artists Fellowship, awarded annually to America's finest living artists. He has held grants from the Fulbright and Guggenheim foundations, two Rockefeller Fellowships, an NEH Fellowship in literature and two NEA fellowships.
McNair served four times on the nominating committee for the Pulitzer Prize in poetry, and in 2010 served as guest editor in poetry for the Pushcart Prize anthology. His poetry has appeared in two editions of The Best American Poetry and in more than 50 anthologies, and has been featured on NPR's Weekend Edition and 14 episodes of The Writer's Almanac with Garrison Keillor.
McNair, of Mercer, served as a professor at the University of Maine at Farmington from 1987 until his retirement in 2004; founded and directed the Creative Writing program there; and is now UMF's Writer in Residence.
He was a visiting professor at Colby College from 1999 to 2004. Colby acquired his personal papers in 2006 and has created an interactive McNair archive and teaching site on the Web.
Bates has a long tradition of welcoming poets and fiction writers to read from their work. During a 1932 U.S. tour, William Butler Yeats read his poetry to a large audience in the Bates Chapel. For 30 years, the inimitable Bates professor and poet John Tagliabue brought many distinguished writers to campus, including Allen Ginsberg and Gwendolyn Brooks.
Since 1991, when it formally instituted a concentration in creative writing within the major, the English department has hosted public readings, class visits and residencies by more than 75 acclaimed poets and writers, among them Nobel Prize laureates Seamus Heaney and Derek Walcott; Pulitzer Prize winners Paul Muldoon, Donald Justice, Bates alumna Elizabeth Strout, Yusef Komunyakaa and Richard Ford; Carolyn Forché, Grace Paley, Galway Kinnell, Marge Piercy, Robert Pinsky and Sarah Manguso.
Recent Bates alums who have authored prize-winning first books have also returned to read: Jessica Anthony (class of 1996), Christian Barter (1990), Gabriel Fried (1996), Christina Chiu (1991) and Craig Teicher (2001).
View Comments