More tickets made available for Kinsey Sicks, celebrated 'dragapella' quartet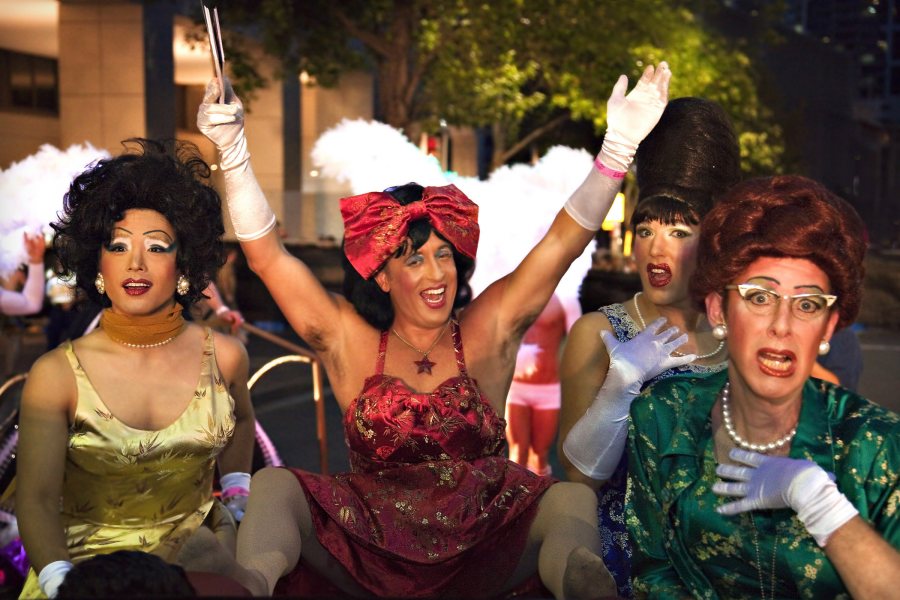 The Chase Hall Committee, a student organization that brings national performers to Bates, has announced that more tickets have become available for an upcoming performance by the Kinsey Sicks — "America's favorite dragapella beautyshop quartet."
The performance takes place at 8 p.m. Wednesday, Nov. 10, in the Olin Arts Center Concert Hall, 75 Russell St. Tickets are $6 and can be purchased at www.batestickets.com. Seating is limited and tickets must be bought in advance. For more information, contact the CHC at 207-795-7496 or this tickets@bates.edu.
A satirical singing group in over-the-top drag, the Kinsey Sicks last performed at Bates in 2002. They have appeared all over the U.S., from off Broadway to major concert halls to an extended run at the Las Vegas Hilton. They have recorded six CDs, appeared on the national TV programs "20/20," the "CBS Early Show with Bryant Gumbel" and "America's Got Talent," and were profiled at length by The New York Times.
In 2001, the girls produced and starred in the critically acclaimed Off-Broadway hit Dragapella! Starring the Kinsey Sicks at New York's legendary Studio 54. That show was nominated for a Lucille Lortel award (the Off-Broadway Tony) as best musical and a Drama Desk award for best lyrics. In 2006, their long run at the Las Vegas Hilton was ranked by critics as one of the city's best nights out. One reviewer called it "a feast for the eyes, the ears and the funny bone."
The quartet is the subject of two feature films: the 2006 concert film I Wanna Be a Republican and the 2008 documentary Almost Infamous, chronicling the group's Las Vegas adventure. The latter film won the award for audience favorite at the 2008 Pittsburgh LGBT Film Festival.
Founded in 1993, the group consists of: Ben Schatz ("Rachel"), a Harvard-trained civil rights lawyer, former director of the national Gay and Lesbian Medical Association and one-time presidential advisor on HIV issues. Schatz created the first national AIDS legal project and authored Bill Clinton's HIV policy during the 1992 presidential campaign.
Irwin Keller ("Winnie"), a University of Chicago-trained lawyer, linguist and former director of the AIDS Legal Referral Panel of the San Francisco Bay Area. Keller authored Chicago's gay rights ordinance, passed into law in 1989.
In 2004, countertenor Jeff Manabat joined the group as Trixie. In addition to singing, he designs the ladies' couture. In 2008, Kansas City-based actor and singer Spencer Brown ("Trampolina") completed the quartet.
View Comments