'Les Femmes du Maroc' artist to speak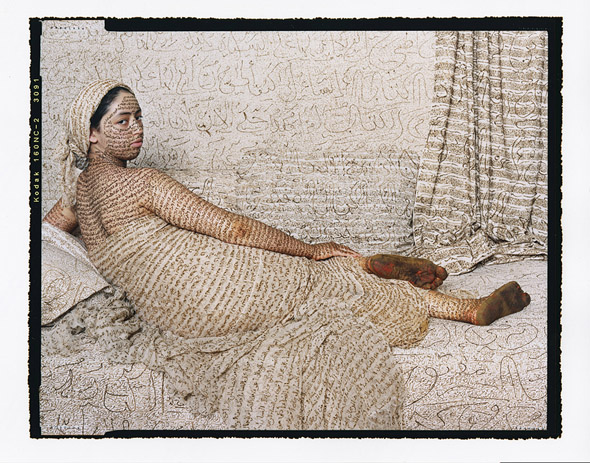 Lalla Essaydi, a photographer whose work is on display at the Bates College Museum of Art exhibition Les Femmes du Maroc through Dec. 18, discusses her art at 7 p.m. Monday, Nov. 29, in the Olin Arts Center Concert Hall, 75 Russell St.

Essaydi's success in producing work at the interface of two cultures makes both her art and career fascinating. Born in Morocco and now living in New York, Essaydi has gained international prominence through timely and beautiful work exploring the condition of women in Islamic society, cross-cultural identity and the history of art, particularly Orientalism — a popular 19th-century Western school of art that interpreted the cultures of North African and Western Asia.
The Moroccan-born artist's lecture takes place during her visit to Bates as a Learning Associate. The event is open to the public at no cost. For more information, please call 207-786-6158.
"Essaydi's striking, large-scale photographs subvert long held misconceptions of women's roles and identities in the Arab world that were popularized by the romantic and exotic depictions by Western artists," says museum curator William Low. Depicting Moroccan women in staged narratives borrowed from Orientalist paintings, she retains the basic forms of the originals — but strips them of their color, removes male figures, erases cues to social status and covers all nudity.
Most distinctively, she incorporates her signature calligraphy throughout the images, writing directly on her models' bodies, apparel and surroundings. "Her use of calligraphy, traditionally a male art form for the transcription of sacred texts, and henna, which is traditionally a women's decorative and ritual art form, also raises the cultural distinctions between men and women within the Arab and Muslim world," says Low.
Also on display through Dec. 18 is Metamorphoses: A Collaboration with Ovid by Wally Reinhardt, a collection of gouache paintings interpreting writings of the Roman poet.
View Comments