Harvard economist visits to offer assessment of healthcare reform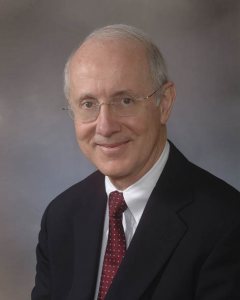 Joseph Newhouse, a professor of health policy and management at Harvard University and founding director of the university's doctoral program in that field, offers an assessment of the national healthcare reform enacted last year at 4:15 p.m. Monday, Jan. 24, in the Keck Classroom (G52), Pettengill Hall, 4 Andrews Road (Alumni Walk).
The talk is sponsored by the Bates economics department and is open to the public free of charge. For more information, please call 207-786-6490.

An economist known worldwide for his work on health and health insurance issues, Newhouse is the John D. MacArthur Professor of Health Policy and Management, director of the Division of Health Policy Research and Education, chair of the Committee on Higher Degrees in Health Policy and director of the Interfaculty Initiative in Health Policy.
He is a member of the faculties of the John F. Kennedy School of Government, the Harvard Medical School, the Harvard School of Public Health and the faculty of arts and sciences, as well as a faculty research associate of the National Bureau of Economic Research.
Newhouse spent the first 20 years of his career at the RAND Corporation, a nonprofit institution that aims to improve policy and decision-making through research and analysis. He designed and directed the RAND Health Insurance Experiment, which studied the consequences of different ways of financing medical services. From 1981 to 1985 Newhouse was head of the RAND economics department.
In 1981 Newhouse became the founding editor of the Journal of Health Economics, which he continues to edit today. He is also a member of the editorial board of the New England Journal of Medicine.
Newhouse serves on the Committee on National Statistics and on the science, technology and economic policy boards of the National Research Council. He has received numerous awards, honors and prizes for his research in health insurance issues and for advancing the field of health economics.
He received his bachelor's and doctoral degrees in economics from Harvard and was a Fulbright Scholar in Germany.
View Comments