Preamble: Winter 2011
Getting Help from a Professor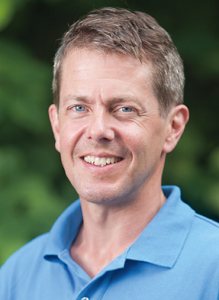 It's time to 'fess up. The bylines and credits sprinkled throughout each issue don't account for all the key contributors to Bates Magazine. For many stories, Bates professors are informal story consultants, helping us develop the best, and best-informed, interview questions.
Take the story by Moscow-based journalist Peter van Dyk about the remarkable Russian business career of Jere Calmes '92. Van Dyk is well-acquainted with the Russian business culture, but because I didn't know the difference between an oligarch and a gargoyle before this story, I asked for help from Bates politics professor Jim Richter and Russian professor Dennis Browne. Both know Calmes from Bates and from visiting him in Moscow on Bates study-abroad programs.
Browne correctly told me that Calmes' early years in Russia would prove "very fascinating." Richter urged van Dyk to ask Calmes about how doing business in Russia has changed, and what it's like for non-Russian companies trying to do business in Russia. The story touches on these topics.
Our feature on Rachel Segall '91, the gestational carrier of a baby for Erik Mercer '91 and his husband Sandro Sechi, got behind-the-scenes help from Rebecca Herzig, professor of women and gender studies. After I outlined the complex story for her, her first comment was simple: "I'm so happy for them!"
But she then cautioned me not to expect that the alums' real-life thought processes would mirror what might unfold in a classroom discussion of surrogacy. That is, in the safety of Pettengill or elsewhere, students and professors tend to think "incisively and articulately about tough questions of gender, sexuality, class, economics, and distributive justice." On the other hand, she observes, people often "stop thinking altogether when our own real lives are at stake."
Yet Mercer, Sechi, Segall, and her husband Tony Hurley '91 nearly pounced on questions that raised tough issues, and their insights had multiple facets, like a sparkly dance ball. (Later this winter, plans are afoot for these Batesies to bring their real world experiences to Herzig's course on "Blood, Genes, and American Culture.")
Herzig coached me, explaining how current thinking in her field tries to untangle the many ways that surrogacy can revise "canonical kin networks." That is, surrogacy complicates traditional ideas of family and relatedness far more than the Brady Bunch ever did (or Modern Family, for that matter). She also suggested some questions, around religion and whether the race or physical appearance of the egg donor affected their selection. The alums responded candidly and, in how Mercer explained how he and Sechi chose their egg donor, with humor.
Finally, when we received a letter with questions about our Summer issue cover story on drug development, we naturally invited Steve Kates '83, a big part of that story, to reply. But also offering us some help was Assistant Professor of Chemistry Jennifer Koviach-Côté. In a nice twist on the notion of faculty consulting, she asked her first-year seminar on "A Drug's Life" to pen a response. I say we give A's to everyone.
View Comments