Conceptual artist Welty offers lecture in conjunction with 'Dialogue, a video series'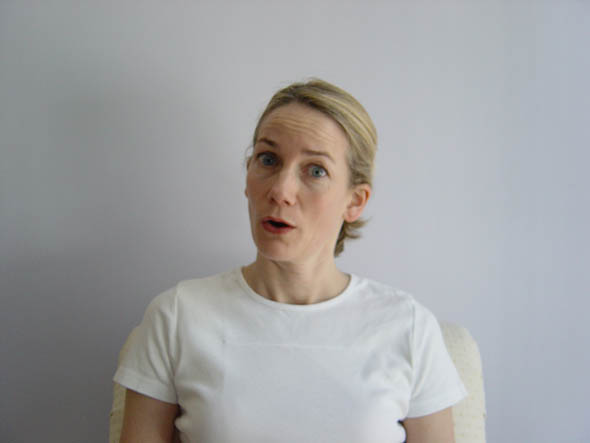 Rachel Perry Welty, one of three artists showing work in a video series at the Bates College Museum of Art, visits Bates to discuss her work at 6 p.m. Thursday, Feb. 17, in Room 104, Olin Arts Center, 75 Russell St.
The event is open to the public at no cost. Welty, along with New York artist Christian Marclay and Dutch artists Roy Villevoye and Jan Dietvorst, provided videos for the museum's exhibition Dialogue, a video series.
Welty's 2004 video "Karaoke Wrong Number" shows through March 3, followed by Villevoye and Dietvorst's "Owner of the Voyage," which runs through March 25.
Also located at 75 Russell St., the museum is open from 10 a.m. to 5 p.m. Tuesday through Saturday. For more information, please call 207-786-6158.
"For 'Karaoke Wrong Number,' Welty lip-synchs to wrong-number messages left on her answering machine," says Museum of Art director and series curator Dan Mills. "The video is humorous and mundane, and also deeply touching. Welty embodies the callers brilliantly, and projects the sense of urgency the found messages often convey."
"It made me consider how we shed information about ourselves as we move through our lives," she told Sculpture Magazine. "That got me thinking about issues of privacy and how technology both helps and impedes communication."
Reflecting Bates' fundamental dedication to good conversation and an open exchange of ideas and artistic expression, the artists in Dialogue, a video series explore communication in videos that are profound, humorous and provocative.
"Owner of the Voyage" is one of a series of videos Villevoye and Dietvorst have made about the outside influences to which the Asmat people of Papua New Guinea have been exposed since their first contact with Westerners, in the 1950s. The video presents the story of two Asmat men's voyage to Amsterdam, as told by an Asmat friend who infuses his own understanding and agenda into the video.
The series opened with Marclay's "Telephones," which uses telephone scenes from Hollywood films to create a fresh, dynamic narrative.
Welty lives in Gloucester, Mass., and New York City. She is known for making obsessive, repetitive and process-based works in diverse media, often using everyday objects, about aspects of her life. She recently opened Rachel Perry Welty 24/7, her first large-scale solo museum show, at the deCordova Sculpture Park and Museum in Lincoln, Mass.
"Over the past decade I have closely followed the progress of this artist's work, and her remarkable rise through the ranks of the art world," Nick Capasso, the deCordova's deputy director for curatorial affairs, told the Metrowest Daily News.
"I have been consistently impressed by both the breadth and depth of her work and also by its sheer beauty."
Welty, a graduate of the Fifth Year Certificate program of the School of the Museum of Fine Arts, Boston, participated in the Traveling Scholar exhibition at the Museum of Fine Arts in  2002 and 2006. Also in 2006, she was a finalist for the Foster Prize competition at the Institute of Contemporary Art.
Also at the museum through March 25: Bound to Art: Illustrated Books from the Edmund S. Muskie Archives and Special Collections Library, an eclectic review of book illustrations in volumes from Bates collections; and Selections from the Collection of the Ogunquit Museum of American Art, representing a Maine museum that's devoted to American art and holds a superb assortment of works by Maine-related artists.
View Comments