Advocate of interfaith dialogue to give Zerby Lecture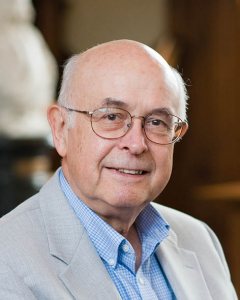 Paul Knitter, a leading theologian of religious pluralism, offers the lecture Without Buddha, I Could Not Be a Christian, at 7 p.m. Monday, March 7, in the Edmund S. Muskie Archives at Bates College, 70 Campus Ave.
The annual Zerby Lecture in Contemporary Religious Thought is sponsored by the Office of the Multifaith Chaplain at Bates. For more information, please call 207-786-8273.
Professor of theology, world religions and culture at Union Theological Seminary in New York City, Knitter has written several works for Orbis Books, including Introducing Theologies of Religions (2002), Jesus and the Other Names: Christian Mission and Global Responsibility (1996) and One Earth Many Religions: Multifaith Dialogue and Global Responsibility (1995).
In these works, Knitter explores interreligious dialogue and ways that the world's diverse religious communities can cooperate in promoting human and ecological well-being.
He holds a licentiate in theology from the Pontifical Gregorian University in Rome and a doctorate from the University of Marburg, Germany. He serves on the Board of the International Interreligious Peace Council.
View Comments