Senior Exhibition 2011: Marta Solomianko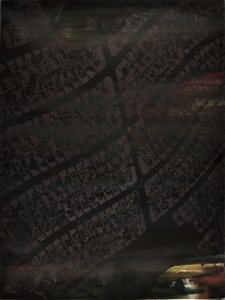 Family history inspired Solomianko's paintings: In 1990, her parents emigrated from Poland to the United States. Starting "with images of May Day parades, Solidarity protests and American suburbs because of the political content they suggested," she explains,
"I eventually became more interested in their pattern-like qualities." Her paintings compose a series, each evolving from the previous one, and she seeks to overwhelm her viewers with intricate detail and repetition.
After graduation, Solomianko will work in the Project 2048 artists residency program in San Francisco, a residency she was granted on the basis of her current artwork.
Leave a Reply
This is a forum for sharing your thoughts about the preceding post with the public. If you have a question for the author, please email the Bates Communications Office at communications@bates.edu.