Touring in support of new CD, rapper Lupe Fiasco to perform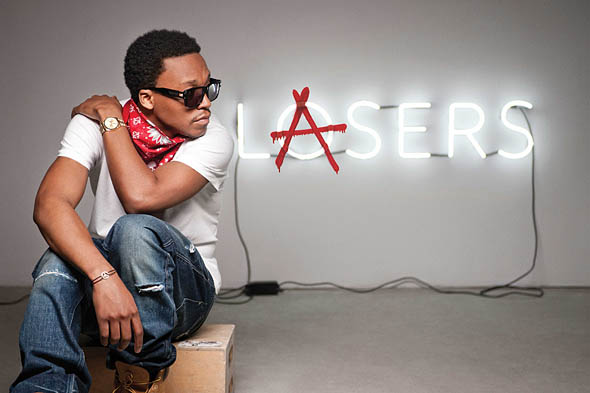 Only two months after the release of his third album, Lasers, acclaimed hip hop artist Lupe Fiasco performs at Bates College at 9 p.m. Wednesday, May 11, in the Clifton Daggett Gray Athletic Building (Gray Cage), 130 Central Ave.
Tickets are available at www.batestickets.com for $40 each, with a maximum purchase per buyer of four tickets. For more information, please contact the Chase Hall Committee, concert sponsor, at 207-795-7496.
Released in March, Lasers (Atlantic Records) is Fiasco's first album in four years, an eagerly anticipated release for the Chicago-based rapper. It combines hard-hitting social and political commentary with more commercially oriented fare. The album's first single, the exuberant "The Show Goes On," was a hit that reintroduced Fiasco to fans after his long absence.
"Lupe's much-delayed set is as militant as the picket signs that fans used to force its release months ago," writes Brad Wete of Entertainment Weekly. But, he adds, "within the harsh truths lie love and joy."
Rolling Stone notes, " 'Lasers' features some of the most thought-provoking rhymes and concepts Fiasco has ever conceived, combined with irresistible melodies, production by the likes of Jerry Wonder and The Neptunes, as well as collaborations with John Legend, Trey Songz, and others."
Fiasco's first album, Food & Liquor (2006), earned three Grammy nominations including Best Rap Album. His sophomore recording, The Cool (2007), may be best-known for its track "Superstar," which reached No. 10 on the U.S. Billboard Hot 100.
By this point, wrote Rolling Stone, Fiasco had "earned his reputation as a rap philosopher, a sharp, dynamic lyricist and an MC."
Born Wasalu Muhammad Jaco, Lupe was one of nine children.  His mother worked as a gourmet chef and his father was an engineer and former Black Panther. As Fiasco told Entertainment Weekly in 2008, "I grew up in the hood around prostitutes, drug dealers, killers, and gangbangers, but I also grew up juxtaposed: On the doorknob outside of our apartment, there was blood from some guy who got shot; but inside, there was National Geographic magazines and encyclopedias and a little library."
Fiasco preferred jazz to rap until he heard rapper Nas' 1996 album It Was Written. That inspired him to join the music group Da Pak, which released one single with Epic Records. Lupe then signed with Arista as a solo artist, and went to Atlantic Records in 2004.
Since then Fiasco has collaborated with such popular hip-hop artists as Kanye West, B.o.B., Snoop Dogg, Jay-Z, N*E*R*D and Pharrell, and toured around the world. Fiasco, says Rolling Stone, will "shock you, make you think, make you dance, and make you laugh, all without resorting to vulgarity or tired hip-hop alliterations."
Leave a Reply
This is a forum for sharing your thoughts about the preceding post with the public. If you have a question for the author, please email the Bates Communications Office at communications@bates.edu.