Bates launches EcoService Day with green projects on, off campus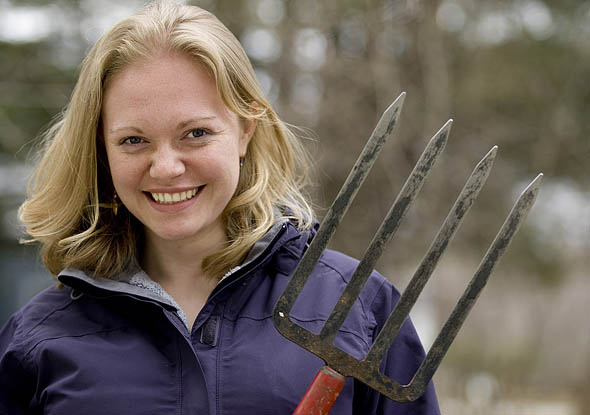 From the shores of the Androscoggin River to the slopes of Bradbury Mountain, dozens of Bates College students, staff and faculty will fan out through Lewiston-Auburn and beyond on Saturday, April 30, to give the environment a helping hand.
EcoService Day gives the students, in particular, a day to focus their energies on environmental sustainability. In addition to tackling projects on campus, Bates volunteers will work at public recreational areas in Lewiston, Auburn and Pownal.
Because Earth Day typically falls during the April week when Bates is on an academic break and students are away, the college launched EcoService Day as an alternative to the international day of environmental awareness.
Both observances are motivated by the same spirit, says Julie Rosenbach, Bates sustainability coordinator. "The moral imperative is to connect people back to a sense of place," she says — "their community, their woods, their ponds. And to bring people out, getting their hands dirty to make things better."
Bates volunteers will spruce up trails at the David Rancourt River Preserve and the Thorncrag Bird Sanctuary in Lewiston and at Bradbury Mountain State Park, Pownal, where they will also perform building maintenance.
In Auburn, they'll clean up a site on an Androscoggin River tributary, the Little River, where students in the Little River Fish Friends program release salmon fry each spring that they have raised from eggs.
On the Bates campus, projects include preparation for spring planting in a college vegetable garden, building weatherization and an energy-use awareness program. The projects, Rosenbach notes, have all been organized by five students in the college's EcoReps program.
Not surprisingly at a college known for active engagement, 40 or so Bates people volunteered for EcoService day as soon as it was announced. Rosenbach expects many more to enlist during the first week of Short Term, Bates' five-week spring semester, which starts April 25.
"Bates people have just grabbed on to this," Rosenbach says. "They are really excited about it."
View Comments