Pianist Glazer plays 'hits' of Bach, Liszt and Beethoven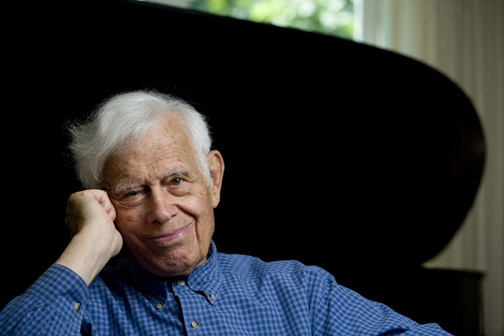 Frank Glazer, one of Maine's eminent pianists, performs popular selections by Bach, Beethoven and Liszt at 7:30 p.m. Friday, May 6, in the Olin Arts Center Concert Hall at Bates College, 75 Russell St.
The performance is open to the public at no cost, but tickets are required. For more information, contact 207-786-6135 or olinarts@bates.edu.
On the program: Bach's Chromatic Fantasy and Fugue in D Minor, Franz Liszt's Sonata in B minor and Beethoven's 33 Variations on Waltz by A. Diabelli in C major, Op. 120.
The fantasy is an extravagant departure from Bach's stereotypical formality. It's emotional, intrepid and sprawling, and invites the performer to make an unusual number of interpretive decisions. The three-section piece is one of Bach's best-known compositions.
The Sonata in B minor, like the Bach fantasy, is a work of impressive scale. Structured in four unbroken movements, the piece is driven by four motives that the composer puts through his trademark high-Romantic permutations. It's considered by many to be Liszt's best writing for solo piano.
Finally, Beethoven's Diabelli Variations are recognized as the pinnacle of the variation form. Based on a waltz by Beethoven's contemporary Anton Diabelli, the variations display Beethoven's melodic imagination in all its glory as he transforms the smallest details of Diabelli's work into a dazzling exploration of mood and structure.
The 96-year-old Glazer, of Topsham, has had a distinguished international career that includes numerous recordings, solo recitals and performances with orchestras and chamber ensembles. With his wife, the late Ruth Glazer, he founded the Saco River Music Festival, held for many years in Cornish, Maine. Glazer has been an artist in residence at Bates since 1980.
View Comments