The Class of 2011: Who they are, where they're from, what they studied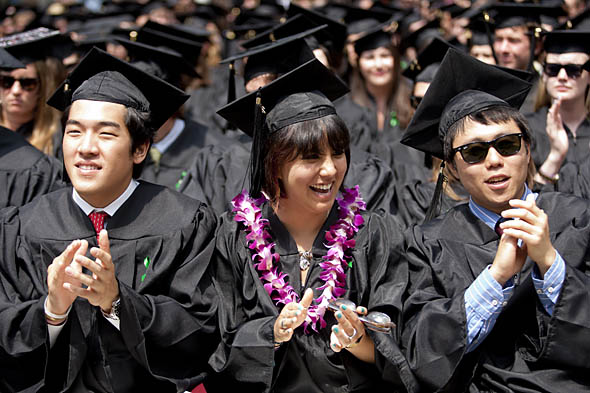 Of the 437 students that Bates College graduated on Sunday, May 29, 240 are women and 197 are men.
According to figures released on May 27, 44 of the students are from Maine and 29 from foreign countries. Thirty-seven of the United States are represented in the class of 2011.
Economics was the most popular major in the Bates graduating class of 2011, with 50 students earning a degree in that field. Psychology was second with 47 students, followed by political science and politics (the name of the major was changed while this class attended Bates), with 44.
Thirty-eight women and 20 men were double majors, with economics, French, art and visual culture, political science/politics and mathematics being the most popular second majors.
One student was a triple major: Stephen Nunes of Karachi, Pakistan, majored in physics, economics and mathematics.
Eighty-one members of the class of 2011 earned bachelor of science degrees, which at Bates indicates that the student took 100-level courses or the equivalent in chemistry, mathematics and physics. The remaining 356 students earned bachelor of arts degrees.
View Comments