Clean Sweep, Bates' mighty 'garage sale,' slated for June 18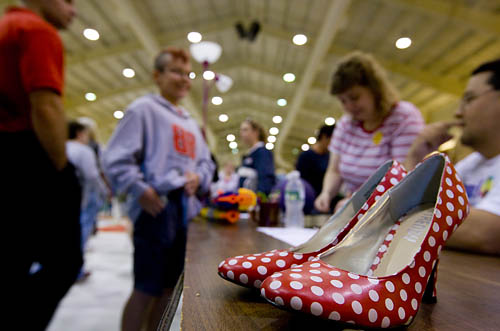 A "garage sale" on a massive scale that benefits the environment, community organizations and countless satisfied shoppers, Bates College's Clean Sweep returns for the 11th year at 8 a.m. Saturday, June 18, at Underhill Arena, 145 Russell St.
As students pack up to leave Bates at the end of the school year, they donate to Clean Sweep all kinds of still-valuable possessions — electronics and toys, household goods and small furnishings, bikes and books, sporting goods and more. The annual sale keeps these perfectly usable items out of the landfill, and the proceeds go to local nonprofits.
To learn more, please call 207-786-6207.
Bates is one of a number of colleges and universities nationwide that hold such sales. Last year's event at Bates raised nearly $16,000 in proceeds divided among 14 local nonprofits.
An annual tradition for both the campus and local bargain hunters, the sale is staffed by volunteers from the nonprofits, which in return receive a share of the proceeds.
Located in Lewiston except as indicated, the nonprofits taking part this year are: the Caleb Garden Club; Common Ties Mental Health Services; First Universalist Church, Auburn; the Justice, Ecology and Democracy Collective, Greene; Life Center; Lots to Gardens; Maine Fair Trade Campaign; Maine People's Alliance; New Beginnings, Inc.; the Share Center, Auburn; Somali Bantu Community Association; TriCounty Mental Health Services; and the Trinity Jubilee Center.
View Comments