Campus Construction Update, July 6, 2011: Chapel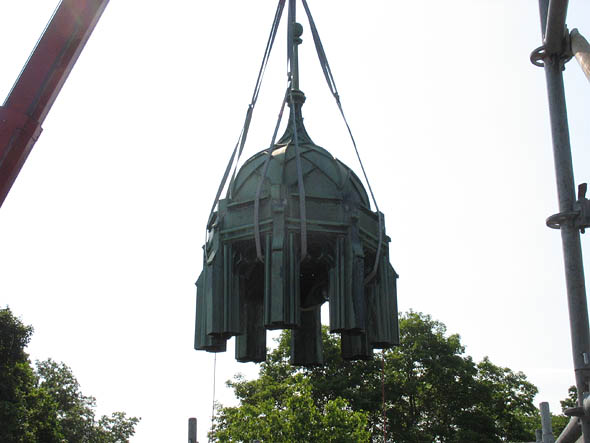 Despite its 14 feet of height and 500 pounds of weight, a copper cupola seemed surprisingly delicate as a crane hoisted it back into place atop the College Chapel's southeast tower on June 9.
Workers from Consigli Construction of Portland, general contractor for the nine-month Chapel restoration project, guided the hovering green cupola toward its base. It looked a little like an octopus, consisting of a dome — more pointy than the usual octopus, true — and eight sheet-copper "legs" hanging down.
The southeast unit was the second to be restored to its base, about 75 feet up. Each of the legs, which are a little wobbly when the cupola is floating, had to be guided onto a wooden upright, not unlike putting trousers onto the octopus. The crane set the thing down very slowly.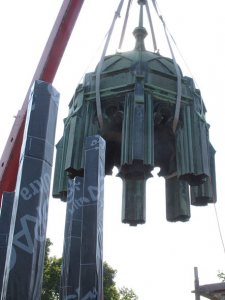 The $2 million restoration, which began in late March, also involves complete replacement of the Chapel's slate roof and extensive masonry repair on the towers and buttresses. (The main walls and stained glass windows need work, too, but that will have to wait for a new infusion of money.)
The first phase of the exterior restoration of the 97-year-old building, says project manager Greg Hogan, is needed largely to repair water damage that has occurred since the last masonry overhaul in the mid-1950s. Moisture filtering down between the inner and outer masonry envelopes, or wythes, leached the adhesive components out of the mortar masonry joints. "In places there was nothing left but the sand" that gives mortar its bulk, Hogan says.
Some damage, ironically, resulted from attempts to keep water out. For instance, 60 or 70 years ago flashing was installed on the dormer roofs to protect concrete ridge pieces. But water instead got under the flashing and soaked the concrete. Natural freeze-thaw cycles worked with the moisture to speed up the deterioration and cause the concrete to fail prematurely, Hogan says.
The corner towers have water issues of their own. In the winter, moisture from the building interior got into the towers, condensed onto the unheated walls and froze into giant icicles, damaging the walls. Now, fans are being installed that will trip on automatically to pull in outside air and equalize the temperature and humidity.
As for the cupolas themselves, the copper had holes that needed patching, and pressure-treated wood replaced the plain wooden frames that had succumbed to time and dampness. The worst damage was to the tower tops where the cupolas sit: on the southeast tower, about four feet of masonry had to be rebuilt, with a new cap of rubber and copper sealing it up.
Now, Hogan says, "These things will be good for the next 100 years."
View Comments