In final days, dance festival showcases students, international choreographers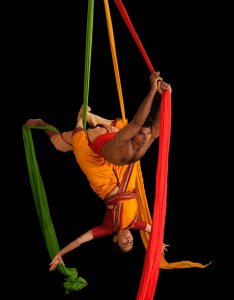 Creations by festival students and by professional choreographers from around the world are showcased in the closing days of the 2011 Bates Dance Festival.
Different Voices concerts in Schaeffer Theatre at 8 p.m. Thursday and Friday, Aug. 11-12, showcase diverse styles and perspectives of choreographers from Asia, Africa and the United States. Among them are Sunon Wachirawarakarn, a principal dancer with Thailand's Pichet Klunchun Dance Company; Nelisiwe Xaba, a Soweto-born multimedia artist; Mamela Nyamza, a choreographer-performer from Capetown; and Kettly Noel, a Haitian-born, Malian-based choreographer who incorporates women's issues into her work.
Coming from the U.S. are Jennifer Archibald, a New York-based hip hop/jazz choreographer; the Connecticut-based modern troupe Race Dance; Catherine Cabeen, artistic director of Catherine Cabeen and Company of Seattle; and contemporary Indian choreographer Aparna Sindhoor, co-director of Navarasa Dance Theater in Boston.
The festival closes Saturday with the Young Choreographers/New Works presentation at 1 p.m. in Schaeffer and the Festival Finale at 7:30 in Alumni Gym, featuring modern, jazz and hip-hop works by visiting choreographers Jennifer Archibald, David Dorfman, Nicholas Leichter and Lisa Race. There will also be a piece by local youth, ages 6-17, who took part in the Youth Arts Program. See below for more information.
---
Here is the remaining schedule of the Bates Dance Festival's 29th season of public events, continuing through Aug. 13 on the Bates campus.
August
11 Thu
8pm Bates Dance Festival performance: Different Voices. A diverse evening of new works by international and emerging choreographers. $24/$12. FMI.
Schaeffer Theatre
12 Fri
8pm Bates Dance Festival performance: Different Voices (see Aug. 11). FMI.
Schaeffer Theatre
13 Sat
1pm Bates Dance Festival performance: Young Choreographers/New Works, an informal adjudicated showing of new works by talented festival students. FMI .
Schaeffer Theatre
7:30pm Bates Dance Festival performance: Festival Finale. Festival participants perform works by Jennifer Archibald, David Dorfman, Nicholas Leichter and Lisa Race, plus a new work by Youth Arts Program participants. FMI.
Alumni Gym
Leave a Reply
This is a forum for sharing your thoughts about the preceding post with the public. If you have a question for the author, please email the Bates Communications Office at communications@bates.edu.