Getting ready: Sanford Freedman and his English courses
From his second floor office in 154-year-old Hathorn Hall, English professor Sanford Freedman can see the stump of the century-old maple tree that fell last Sunday during Tropical Storm Irene. As it crashed the ground, it bonked the 1931 Flag Pole.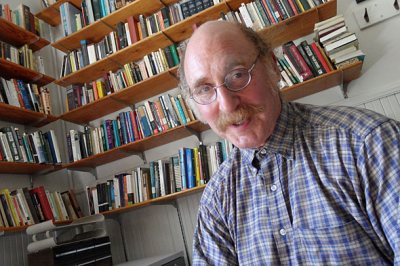 You might think the trappings of history would make Freedman feel like it's the same old, same old. Hardly.
"I've been here since 1978, and it looks on paper like I'm teaching the same courses as usual: a seminar, 18th-century literature, Shakespeare," he says. "But every course is different every year. I'm teaching Shakespeare that I haven't taught in 30 years. Lear and Macbeth have to be in there, but not everyone is teaching Cymbeline and Cardenio."
"Preparing a syllabus is like climbing a familiar mountain and taking a different route to the top."
In the days before classes begin, Freedman is mostly thinking about the several students he'll be advising as they make their assault on another kind of academic mountain: the pursuit of honors.
One of those students is Charles Thaxton '12 of Portland, Maine, who spent part of the summer at the University of Texas at Austin, doing research in the archive of the late author David Foster Wallace.
"Just gimme that breakthrough postmodern novel!"
At this early stage, Freedman is helping Thaxton think broadly about the scope and approach of the thesis. During frequent phone calls over the summer, Freedman says, "we were brainstorming, thinking out the long end of things. What forms an honors thesis? How will you work on this?"
Thaxton's principal text is Wallace's 1996 novel Infinite Jest, and Freedman hopes Thaxton can focus on the novel without making the 1,079-page tome the heart of his thesis.
"We talked about how Charles can do the thesis without sacrificing what he knows about Infinite Jest," Freedman explains. "Trying to tell the whole story of Infinite Jest, in a sense, might ruin the thesis. It would monopolize the thesis. Charles would get lost in it, and he would lose the analyticity that he wants to be able to bring to his thesis."
Freedman's seminar is on the postmodern novel, which has students "begging" to get in.
"A huge number of students wanted in on this course," he says. "The phrase 'postmodern novel' brings everyone out of the woodwork. You get science and technology people, and students who love to say, 'Just gimme that breakthrough postmodern novel! Throw away the old!'"
But beware of what you beg for, responds Freedman with a bit of gusto. "There's some really hard reading. Thomas Pynchon's V., Riddley Walker by Russell Hoban, The Rings of Saturn by W.G. Sebald.
"It will knocks their socks off!"
View Comments